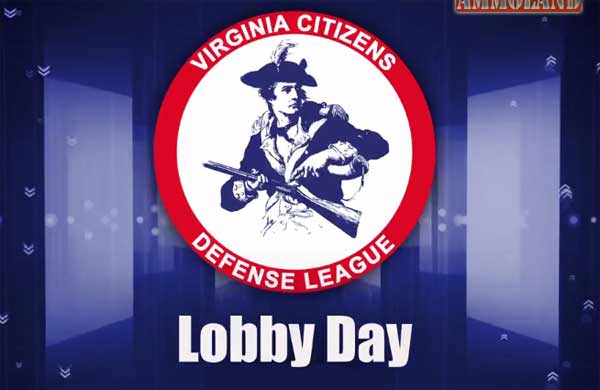 Covington VA –-(Ammoland.com)- The General Assembly convened on Wednesday. Most of the gun bills have been introduced, but there could be more coming next week. There are lots of really excellent gun bills this year and lot of really horrible ones, too.
I have some excellent news! The make up of the key committees that deal with gun bills in both houses is excellent. Subcommittees look excellent as well. There is no "death-star subcommittee" (where good bills are intentionally sent to die) in the House Militia, Police, and Public Safety committee this year.
We will be watching for "pocket vetoes," where a pro-gun bill is intentionally locked away by the Speaker of the House or a committee chairman, so that the bill is never heard in either committee or subcommittee and, thus, never voted on.
Below is a sampling of the best-of-the-best and the worst-of-the-worst of the bills introduced so far. To see all of the gun bills and their status, go to the VCDL Legislative Tracking Tool by clicking here. It will be updated daily:
http://www.vcdl.org/webapps/vcdl/2017leg.html
BEST-OF-THE-BEST (so far)
SB 1132, Senator Garrett, HB 1773, Delegate Berg, allows a concealed handgun permit holder, during normal school hours, to store a loaded, concealed handgun in his or her vehicle and then exit the vehicle. After normal school hours or on holidays or weekends, a concealed handgun permit holder can possess a concealed handgun on school property, including buildings and grounds. Not requiring the concealed handgun to be unloaded when leaving it secured in a vehicle is a safety measure as it minimizes the chances of an accidental discharge, which is more likely to happen when loading/unloading a gun. Allowing concealed handgun permit holders to carry after school hours allows a person their right to self-defense, something that some states, such as Utah, allow during school hours.
HB 1329, Delegate Ware, R. Lee, Jr., changes the concealed handgun law to honor the concealed handgun permits from all other states if the permit holder is at least 21 years old. The out-of-state permit holder will have to also show government-issued photo-identification at the request of a law-enforcement officer. By honoring all other states, Virginia permits will be honored in more states, including Georgia, New Hampshire, and Colorado.
HB 1389, Delegate Berg, prohibits any public institution of higher education from preventing a person with a valid concealed handgun permit from carrying a concealed handgun on property owned by the institution. This bill will strongly discourage a criminal from attempting a massacre like the one at Virginia Tech in 2007. Virginia's colleges and universities will no longer be "gun-free zones," where good people are not allowed to defend themselves and others from evil-doers.
HB 1390, Delegate Berg, is a state-agency firearms preemption bill, which would make Virginia's firearms laws consistent, with all laws, regulations, and ordinances based on specific statutes created by the General Assembly. Currently, unlike localities, state agencies can create firearms regulations without having to get prior approval from the General Assembly. This creates a confusing, and sometimes conflicting, set of gun regulations. The bill makes exceptions for correction facilities and the Department of Behavioral Health and Developmental Services.
HB 2009, Delegate LaRock, requires the chief law-enforcement officer to certify a request for the transfer of a firearm that is covered under the National Firearms Act (NFA), unless the officer knows the person receiving the firearms is prohibited from doing so. This bill will make ownership of NFA firearms uniform across the state. Currently the chief law-enforcement officers in some jurisdictions refuse to do any such certification, while others do them as a matter of course.
HB 2027, Delegate Wilt, allows a person in lawful possession of a handgun to carry that handgun in the non-secure area of an airport terminal. Signs will be posted before entering the secure area warning that the area is a secure area. The terminal area is much like a mall – there is no screening of those entering as they may be simply dropping off/picking up a passenger, renting a vehicle, or purchasing tickets for a future flight. This bill as introduced is preferable to HB 1772 as introduced.
HB 2029, Delegate Wilt, re-appropriates concealed handgun permit fees between the Circuit Court Clerk and law enforcement. It also requires a National Instant Check System background check be done on concealed handgun permit holders, which will then allow the permit holders to purchase firearms without needing a background check, as per federal law.
WORST-OF-THE-WORST (so far)
SB 694, Senator Marsden, HB 1604 Delegate Plum, requires all private sales at gun shows go through a background check. The Virginia State Crime Commission did not recommend this approach when asked seven years ago. A gun show may not even be able to find a willing dealer to do such background checks due to the paperwork and the mandatory 20-year retention of that paperwork. The private sale background check requirement is just the first step in ultimately setting up a "Universal Background Check" scheme that can only be enforced by means of a "Universal Gun Registration." This bill will unnecessarily raise the price of privately sold guns. It will also make it much harder to hold a gun show in Virginia, which brings a lot of revenue to the Commonwealth. Finally, according to a report from the U.S. Department of Justice, less than 1% of guns used in crimes are purchased at gun shows, so this bill will have no noticeable affect on crime.
SB 768, Senator McEachin, requires that all private sales of firearms go through a federal firearms licensed dealer ("Universal Background Check"). This bill will do nothing about crime, but will make it harder and more expensive for a citizen to sell or trade one of his firearms to another citizen. No dealer is required to make such a transfer, possibly making a transfer all but impossible or not possible in a timely manner. No fee limit is placed on what a dealer can charge for such a transfer, either. Finally, this bill will also lead to an inevitable "Universal Registration" scheme at some point in the future to provide for enforcement.
SB 798, Senator Lock, HB 1671, Delegate Simon, HB 1977, Delegate Morrissey, reinstates the old "One Handgun a Month" law. There was no evidence to show that the old One Handgun a Month law did anything to reduce crime or gun trafficking. Improvements in the background check system have also made the bill unnecessary.
SB 909, Senator Howell, HB 2045, Delegate Filler-Corn, makes possessing a firearm illegal if that person has a restraining or protective order against them. The current law allows a person to be able to possess a firearm to protect themselves, but not purchase or transport a firearm, nor have a concealed handgun permit, while the order is in effect. During divorce proceedings it is not unusual for both parties to have a protect order issued against each other. Sometimes the order can be issued ex-parte, so the person may not even be aware that their guns at home are now unlawful for them to possess. The Commonwealth should not take away the right of either party to at least be able to protect themselves in their own home.
SB 912, Senator Wexton, creates a new "temporary firearms restriction order," which prohibits the purchase, possession, or transportation of a firearm for 90-days if a person has an emergency custody order issued against them. The concept is unnecessary as the person will not have access to his firearms during the time that the emergency custody order is in effect (up to 8 hours) or, if a temporary detention order (TDO) is issued, for a total of 80 hours. In the case that a TDO is determined not to be necessary or the TDO shows the person does not need treatment, the person currently retains his or her gun rights. With this bill, those rights would be taken away for 90 days, even though the person was not deemed to require treatment.
SB 943, Senator Favola, HB 2085, Delegate Murphy, takes away the right of someone to possess or transport a firearm for certain misdemeanor convictions. Misdemeanors are not meant to take away someone's civil rights because, by definition, they are minor crimes.
SB 1108, Senator Puller, HB 1548, Delegate Hope, revokes the concealed handgun permit for a person who is delinquent in child support payments. A person who has fallen on financial hard times should not have their lives endangered by having their right to self-defense abrogated. There is no logical connection between child support payments and the right to carry a concealed handgun for self-defense any more than there is a connection between failing to pay a water bill and having a drivers license.
SB 1178, Senator Ebbin, changes a plethora of code sections to increase penalties and remove rights for firearm owners, solving problems that don't exist. Particularly objectionable parts in no particular order are: 1) Further victimize a person whose gun has been stolen by opening them up to civil liability for not have secured the gun against such theft. 2) Removes the exemption which allows a concealed handgun permit holder to have a loaded firearm with more than a 20 round magazine in certain localities. 3) Adds the requirement to fingerprint concealed handgun applicants, something which was removed as a requirement years ago. 4) Removes the option for firearms training online. 5) Creates a requirement for "Universal Background Checks." 6) Reinstates the One Handgun a Month law, BUT makes it One Firearm a Month and removes any exemption for concealed handgun permit holders.
HB 1909, Delegate Lopez, bans magazines which will hold more that 20 rounds of ammunition. Three such magazines acquired before July 1, 2015 can be kept if registered, but the rest must be given up or sold. Such registration must be done annually and storage for the magazine must be made available for the State Police to inspect. This bill is one that a police state would support. According to the FBI just a little over 300 people were killed with long guns in their latest report on crime. Of those, only a fraction would have had a magazine that would hold more than 20 rounds. This bill would do nothing for crime, but would put an onerous responsibility on gun owners to register the magazines every year. Under the Fifth Amendment, criminals would not have to register their magazines. The requirement for police to inspect the storage area for the magazines would violate the Fourth Amendment as well.
REMINDERS!!
Lobby Day is THIS Monday! Details are here (including bus information and pre-Lobby Day dinner on Sunday – space still available for both right now):
https://vcdl.org/2015LobbyDay/
About:
Virginia Citizens Defense League, Inc. (VCDL). VCDL is an all-volunteer, non-partisan grassroots organization dedicated to defending the human rights of all Virginians. The Right to Keep and Bear Arms is a fundamental human right. Visit: www.vcdl.org