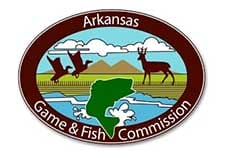 Morrilton-(Ammoland.com)- Drivers traveling south on Highway 95 along Lake Overcup may have noticed what appears to be a slide on the back side of the Lake Overcup dam.
Inspections by the Arkansas Game and Fish Commission have determined that the integrity of the dam has not been compromised.
The dam has a history of slides dating back to 1987. AGFC District Fisheries Supervisor Tom Bly says the agency is currently working with consulting engineers to determine the cause, extent and remedial action that can be taken to address the problem. "A precursory inspection by the consulting engineers revealed no seeps on the downstream slope or tension cracks along the slope intercept. Bulges at the toe of the dam indicate the slide may not be as deep-seated as earlier feared," Bly explained.
The clay foundation of the dam was exposed in several places in the slide, Bly says. "This is consistent with using borrowed soil from onsite to construct the backside embankment over the clay foundation. The nature of the soils themselves may be the cause of the problem. The consulting engineers will be conducting borings and soil testing, analyzing the data and developing recommendations," he said.

Bly said the AGFC is hoping that a drawdown of the lake is not needed when repairs are made. "We have discussed this numerous times with our engineer and administration. We do not want to draw the lake down unless it is absolutely necessary," he said. "We lowered the lake in 2010 as part of a management drawdown. We made several improvements during the drawdown including marking the boat trails, renovations to facilities and liming the lake to improve water quality," Bly said. "We also repaired a slide on the dam during the drawdown. Due to ensuing drought years and the renovation of the water control structure and drain pipe, it took longer than usual for the lake to recover and fill up. Though fish population sampling did not indicate adverse effects to the fish population due to the extended drawdown, it did appear to affect fishing," he added.

AGFC personnel will continue to monitor the slide while preparations are made to initiate the repairs. "Due to the nature of the work, it will be summer before repairs can be made. Once the consulting engineers complete their study we will develop cost estimates off their recommendations," Bly explained.
Lake Overcup is a 1,025-acre fishing lake that was impounded in 1963. It is located in Conway County about a mile north of Interstate 40 and the city of Morrilton.