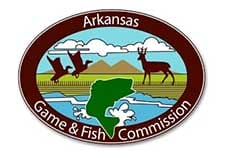 Little Rock-(Ammoland.com)– Arkansas anglers have had a respite from the cold over the past week.
They've taken advantage of the warm weather to hit the state's numerous fisheries.
Arkansas Game and Fish Commission fisheries crews have been busy stocking those fisheries with over 172,000 fish in Arkansas lakes and rivers.
The total stocking weighed over 54,700 pounds. Sportfish stocked included trout, largemouth bass, crappie, bream and catfish.
December's stockings:
Amon's Lake, Baxter County, 500 catchable rainbow trout
Lake Atalanta, Benton County, 1,864 catchable rainbow trout
Beaver Lake, Benton County, 30,000 yearling channel catfish
Lake Bentonville, Benton County, 500 catchable rainbow trout
Bennett Lake, Faulkner County, 10,000 fingerling redear bream
Boyle Park Pond, Pulaski County, 500 catchable rainbow trout
Cabot Community Pond, Lonoke County, 500 catchable rainbow trout
Lake Cargile, Conway County, 5,824 yearling white crappie
Carol Ann Cross Park, Sebastian County, 700 catchable rainbow trout
Lake Catherine, Garland County, 1,360 catchable rainbow trout
Cherrywood Lake, Pulaski County, 500 catchable rainbow trout
Conway Station Park, Faulkner County, 500 catchable rainbow trout
Craighead Forest Kids Pond, Craighead County, 500 catchable rainbow trout
Lake Dieffenbacher, Miller County, 500 catchable rainbow trout
Entergy Park Lake, Garland County, 500 catchable rainbow trout
Family Park Lake, Garland County, 500 catchable rainbow trout
Fort Roots Lake, Pulaski County, 500 catchable rainbow trout
Lake Hamilton, Garland County, 2,030 catchable rainbow trout
Lake Jack Nolen, Sebastian County, 2,704 yearling white crappie
John Benjamin Glenwood Community Pond, Pike County, 500
catchable rainbow trout
Little Missouri River, Montgomery County, 1,000 catchable rainbow trout
MacArthur Park Lake, Pulaski County, 500 catchable rainbow trout
Martin Luther King Jr. Park Pond, Jefferson County, 1,000 catchable rainbow trout
Mike and Janet Huckabee Youth Pond, Hempstead County, 250 catchable rainbow trout
Mirror Lake, Stone County, 1,000 catchable rainbow trout
Murphy Park Lake, Washington County, 750 catchable rainbow trout
Little Missouri River, Pike County, 5,475 catchable rainbow trout
Ouachita River, Hot Spring County, 2,000 catchable rainbow trout
Paradise Lake, Pulaski County, 500 catchable rainbow trout
Pleasant View Park Pond, Pope County, 1,200 catchable rainbow trout
Lake Pickthorne, Lonoke County, 533 catchable channel catfish
Lake Rayburn, Benton County, 2,504 fingerling black crappie
Rich Mountain Community College Pond, Polk County, 300 catchable rainbow trout
Rock Creek, Pulaski County, 500 catchable rainbow trout
Saline River, Grant County, 5,888 yearling white crappie
Searcy City Lake, White County, 500 catchable rainbow trout
Sherwood City Pond, Pulaski County, 500 catchable rainbow trout
Spring River, Fulton County, 4,420 catchable rainbow trout
Lake Springdale, Washington County, 750 catchable rainbow trout
Lake Valencia, Pulaski County, 1,000 catchable rainbow trout
War Memorial Park, Pulaski County, 500 catchable rainbow trout
Lake Welles, Sebastian County, 1,000 catchable rainbow trout
West Memphis City Park Lake, Crittenden County, 1,000 catchable rainbow trout
White River, Baxter County, 13,500 fingerling rainbow trout
White River, Baxter County, 13,500 fingerling brook trout
Greers Ferry National Fish Hatchery Little Red River, Cleburne County,
4,750 fingerling brook trout
Little Red River, Cleburne County, 4,750 fingerling rainbow trout
Little Red River, Cleburne County, 6,985 catchable rainbow trout
Little Missouri River, Pike County, 2,640 catchable rainbow trout
North Fork River, Baxter County, 13,500 fingerling brook trout
Lake Hamilton, Garland County, 5,090 catchable rainbow trout
Norfork National Fish Hatchery Beaver Tailwater, Carroll County, 2,499 catchable rainbow trout
North Fork River, Baxter County, 2,042 catchable rainbow trout
White River, Baxter, Izard and Marion counties, 36,203 catchable rainbow trout