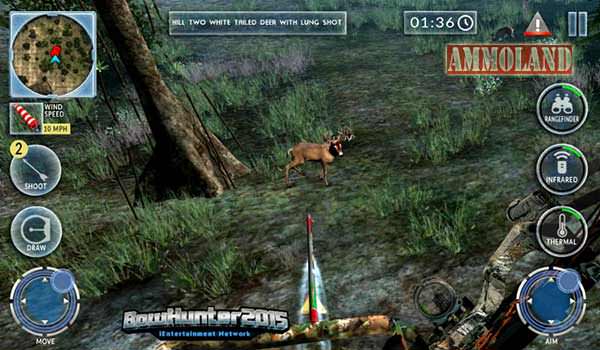 Cary, NC -(Ammoland.com)- iEntertainment Network Inc., announces the release of the first Beta movie of IENT's new mobile simulation game, BowHunter 2015, for iOS and Android mobile devices.
BowHunter 2015 will be the most realistic hunting game in the gaming market. Unlike many of the games on the market today, the BowHunter 2015 gamer will be able to stalk or hunt from treestands for whitetail deer in various regions of the United States delivering the feel of real life hunting scenarios that gamers have yet to experience.
They will have to defeat the keen senses of the animals to have success. The game contains over 160 hunts, with increasing difficulty, requiring better and better equipment, techniques, and hunting expertise. The new Beta1 movie represents 75% completion of BowHunter 2015's first hunting region, the American Southeast. Bow hunting enthusiasts as well as gaming aficionados who would like to review the simulation development work in progress can get a Beta version (Android or iOS) of the BowHunter 2015 by signing up on the BowHunter 2015 Facebook page, www.facebook.com/BowHunter2015.
Beta is expected for release by February 16th to qualified industry professionals. Full product release is expected in early March 2015. See the new Beta1 movie on YouTube here: BowHunter 2015 Beta1 Movie. Even more exciting hunting experiences can be viewed below:
The BowHunter 2015 movie demonstrates the ProShop Products section of the simulation where players can purchase flatter shooting bows, hunting arrows, optics, and other bow hunting accessories to make their in-game hunts more successful. By being able to upgrade the gamers' equipment, players not only qualify for monthly tournaments where they can win cash prizes (gift cards), bow hunting products like arrows, camo, optics, etc., they will enjoy greater success as they move through the different levels of difficulty.
The ProShop Products section of BowHunter 2015 offers outdoor product companies the opportunity to place their outdoor products (bows, arrows, optics, camouflage, etc.), in accurate simulations of their products capabilities and attributes for sale in the ProShop for tens of millions of positive impressions to millions of potential customers.
BowHunter 2015 will be updated monthly with new hunts, new challenges, new weapons, and new animals to hunt every month after release for six months. IENT is developing two other Outdoors Mobile Games for late 2015, a rifle hunting game and a fishing game.
See the IENT website at www.IENT.com for more information.
About iEntertainment Network, Inc. (IENT)
iEntertainment Network, Inc. is a public company (Symbol IENT on the OTC) founded in 1995 to develop and operate retail and online military simulation games. The Company went public in 1998. IENT was one of the very first online game companies and its casual games have been featured on EarthLink, Time Warner, and 10 other ISPs as their white label casual games. IENT was generating very significant advertising revenues from its casual games at one time. IENT also was one of the very first Massively Multiplayer Online game companies and has been developing and operating online games since 1997, with its launch of the WarBirds franchise of online games.
For more information about IENT and its videogames, please visit www.IENT.com.