For Hunters Who Live to Let Broadheads Fly, the New Buck Wear Deer Slayer T-Shirt is a Perfect Fit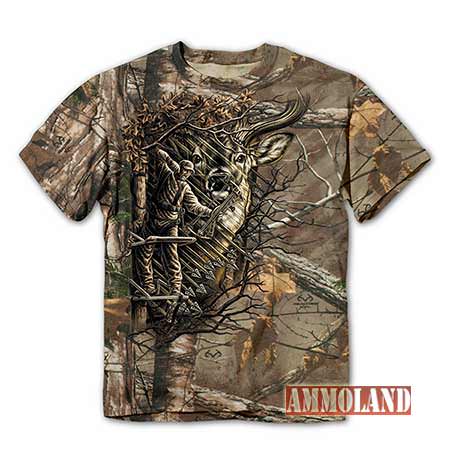 Baltimore, MD -(Ammoland.com)- If you're a serious bowhunter who pushes the envelope to the extreme on every hunt, then it's likely your passion shines through in every part of your lifestyle.
Buck Wear takes pride in helping bowhunters like you share your drive and dedication for the hunt through its full line of outdoor lifestyle shirts, hoodies, hats and other apparel. Adding to the widely popular lineup in 2015 is the company's newest design specifically for hunters who live to let broadheads fly — the new Buck Wear Deer Slayer T-Shirt.
Completely covered in popular Realtree Xtra camo, you'd think this shirt was designed to blend in. Truth is, it's the shirts captivating illustration that makes it stand out. Amidst the camo (and placed front and center of the shirt) is a scene you've dreamed about every night since fall began. The story begins with a bowhunter in his treestand at full draw, with countless broadheads flying and his trophy buck illustrated in the shadows. These creative elements truly capture the action bowhunters have experienced countless times in the stand. In fact, the determination in the shooter's face tells it all — excitement, adventure, and a sense of pride and passion sure to resonate with every bowhunter the shirt encounters.
Made from high quality heavyweight 100 percent cotton, the T-shirt lives up to Buck Wear's reputation for comfortable long-lasting apparel. The shirt is pre-shrunk and made using a premium screen-printing process sure to withstand the wear-and-tear of countless washes.
Buck Wear's new Deer Slayer T-shirt (Model # 1662) is available in sizes medium through XL and looks great with a popular Buck Wear hat or hoodie. And don't forget, there's something for the entire family — Buck Wear also offers stylish designs in women's and youth sizes.
For more information on the new Buck Wear Deer Slayer Camo T-shirt or Buck Wear's full selection of apparel for outdoor enthusiasts, please contact: Buck Wear, Inc., 2900 Cowan Avenue, Baltimore, MD 21223 · Telephone: (800) 813-7708, or visit www.buckwear.com.
Buck Wear's clothing line is available through top hunting, fishing and outdoor sports retailers across the United States and online at www.buckwear.com.
About Buck Wear, Inc.
Buck Wear, Inc. is based in Baltimore, MD and was founded in July of 1992. Quality is a major theme throughout all of our operations. This includes quality in our art, printing, customer service, and fulfillment. The outdoorsman continues to be a focus in our design work; however, as you view our website you will notice that we offer a variety of designs covering different sports, hobbies, occupations, and activities. Creating original & unique art is our passion, but it's the people behind our company that make us successful. Our artists, inside and outside sales staff, management, warehouse and production staff are committed to our company and are the reason for our success. Welcome to Buck Wear. We hope you enjoy our products.
Keep up with the latest Buck Wear designs and company news on www.BuckWear.com.