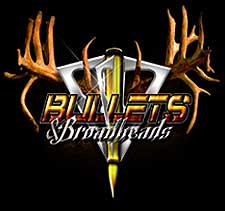 USA (Ammoland.Com) – Bullets & Broadheads TV, featuring Michael and Sonia Hendrick, is excited to announce a new partnership with Henry Repeating Arms for 2015. Now beginning season four with brand new episodes, Bullets & Broadheads keeps family values going strong with every stalk and chase near their Texas home. Tune in Sunday nights at 7 p.m. ET exclusively on Sportsman Channel.
Learn more at http://bulletsnbroadheads.com
"Henry Repeating Arms is a quality product we are proud to stand behind and partner with on our show," said Michael Hendrick. "We've never had a problem with their rifles and we look forward to showing our audience their durability in the field this season."
This season's show will see the Hendricks go after bowhunting big whitetails in central Texas to chasing "speed goats" aka pronghorn antelope. Michael, Sonia and their two children, Michael J. and McKenzie, get in on all the opportunities hunting in Texas offers. The crew evens travel to British Columbia to chase big bruins.
"We are proud to partner with Bullets & Broadheads. Their family values and passion for the outdoors is exactly what we also stand for in when we manufacture our rifles," said Anthony Imperato, president of Henry Repeating Arms. "We look forward to educating their audience of experienced outdoorsmen and women on our products and how we can help them achieve success in the field."
New sponsors of Bullets & Broadheads for 2015 include: Cabela's, Henry Repeating Arms, Road Armor, Ultimate Wild, Graffix Express, Tactacam and Anilogics Outdoors. Returning sponsors are: Badlands, Crossbreed Holsters, Hornady Ammo, Caldwall Shooting Supplies, Birchwood Casey and Lumenok.
Learn more about Bullets & Broadheads at http://www.bulletsnbroadheads.com and on Facebook at https://www.facebook.com/pages/Bullets-Broadheads/107777472594725?ref=hl
About Henry Repeating Arms
Henry Repeating Arms is one of the country's leading rifle manufacturers. Their legendary name dates back to 1860 when Benjamin Tyler Henry invented and patented the first practical repeating rifle during the Civil War. It became known as the "gun you could load on Sunday and shoot all week long." Henry rifles went on to play a significant role in the frontier days of the American West and soon became one of the most legendary, respected and sought after rifles in the history of firearms. President Lincoln's Henry hangs in The Smithsonian and has become a national treasure. The company's manufacturing facilities are in Bayonne, NJ and Rice Lake, WI.
About Bullets & Broadheads
Big country, big whitetails, big hearts and big family ties – Bullets & Broadheads is a true grit, real story, Texas country outdoor show. For generations, the Hendrick family grew up harvesting trophy wildlife from the far stretches of Texas underbrush. Today, Michael, Sonia, Michael J., and Mckenzie share those traditions in search of their next monster whitetail. Texas is big country, where the hunts are wild, the people are a dose of southern comfort and family blood comes first. The Hendricks bring Texas living, community and conservative hunting to viewers across the nation. Learn more at http://bulletsnbroadheads.com