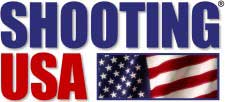 USA – -(Ammoland.com)- Shooting USA's Impossible Shots – Jerry's World Record Reloads
Smith & Wesson Pro Jerry Miculek attempts to set a new speed record with his revolver that may be the fastest reloads ever caught on camera. Plus, Mr. Flintlock, George Sutton tries to flip a coin with a .50 caliber round ball.
Shooting USA – International Revolver Championship 2014
We're covering the annual championships for wheel guns and their fans, with the top revolver shooters at the Hogue Range in California. Plus, a profile of the only man to win two gold medals in his Olympic sport. Vincent Hancock is now teaching and training for another gold in International Skeet.
AIR TIMES BY TIME ZONE
The Shooting USA Hour Wednesday:
Eastern Time: 3:00PM, 9:00PM, 12:30 AM Thursday
Central Time: 2:00 PM, 8:00 PM, 11:30 PM
Mountain Time: 1:00 PM, 7:00 PM, 10:30 PM
Pacific Time: 12:00 Noon, 6:00 PM, 9:30 PM

Shooting USA is listed as a one-hour show in your cable menu.
Shooting USA's Impossible Shots Wednesday:
Eastern Time: 1:00 PM, 10:30 PM, 3:30 AM Thursday
Central Time: 12:00 Noon, 9:30 PM, 2:30 AM Thursday
Mountain Time: 11:00 AM, 8:30 PM, 1:30 AM Thursday
Pacific Time: 10:00 AM, 7:30 PM, 12:30 AM Thursday
Get Fitted with Shooting USA Gear
Rail covers, patches, hats and polos – all great gifts from your favorite show. Check out the new products from our Shooting USA store today: http://www.shootingusastore.com
Follow the Action
And to be sure to "Like" Shooting USA on Facebook to stay in the loop and get all of our news: https://www.facebook.com/JimScoutten.ShootingUSA?fref=photo
Jim
Defending the 2nd by Example in the 22st Year
www.ShootingUSA.com