Marauder Is Best Seller for Third Straight Year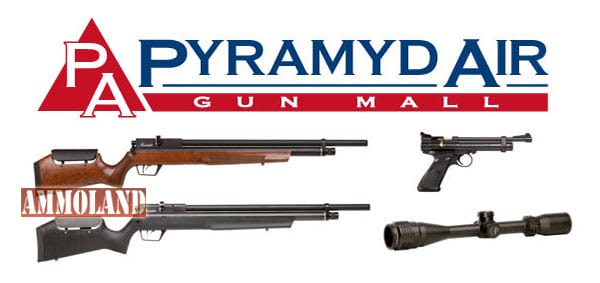 Bloomfield, NY -(Ammoland.com)- Pyramyd Air, the world's largest online retailer for airguns, recently announced their top selling products for 2014 and Crosman products swept the #1 position in Air Rifles, Air Pistols, High-End Airguns and Scopes.
The Marauder from Benjamin Airguns, Crosman's premium line of airguns, was the best seller for the third straight year in addition to being the top selling High-End airgun.
"We're thrilled that at a retailer like Pyramyd Air where consumers can choose from literally every product available, that they made Crosman their top choice in every major product category," said Jennifer Lambert, Vice President of Marketing. "It is testament to the quality and value Crosman has been known for for over 90 years."
Among Pyramyd's top ten Air Rifle products, the Benjamin Marauder placed first; the Crosman 1077, the only CO2-powered rifle in the top ten, placed fourth; and the Benjamin Trail with Nitro Piston 2 placed seventh, remarkable since it became available just midway through the year. The Crosman 2240, first produced in 1999, remains fantastically popular and placed first in the Air Pistol category followed by the Crosman C11 in fifth and the Crosman Vigilante in eighth place.
Among High-End airguns, the Benjamin Marauder placed first and the Benjamin Marauder Pistol was fourth. The Marauder Pistol was the only handgun to place among the top ten in the category. The CenterPoint 4-16×40 AO rifle scope topped the Optics category and the CenterPoint AR22 Series 4×32 placed fifth.
Crosman Premier Domed .22 caliber and Premier Hollow Point .22 caliber pellets placed fourth and fifth, respectively, in the ammunition category. In airsoft, Crosman also placed two products in the top ten: the Crosman Pulse R76 in third place and the Crosman Z11 Zombie Eliminator pistol was seventh.
For additional information on Crosman airguns and ammunition, visit www.Crosman.com or write to Chip Hunnicutt, Marketing Manager, Crosman Corporation, 7629 Routes 5 & 20, Bloomfield, NY 14469, or contact him via email at [email protected], Twitter @chiphunnicutt or by phone at (800) 7–AIRGUN (724-7486).
For up-to-the-minute news from Crosman Corporation, follow the company on Twitter (@crosmancorp).
About Crosman
For over 90 years Crosman has led the world in the design and manufacture of airguns and airgun ammunition, along with airsoft, optics and shooting sports accessories. Headquartered in Bloomfield, N.Y., the company sells its products worldwide under the Crosman, Benjamin, CenterPoint, Game Face and Undead Apocalypse brands.
For more information about any of these brands or products, please contact Crosman Public Relations at (800) 7-AIRGUN or visit www.Crosman.com.