By Jason Reid

Rochester, New York – -(Ammoland.com)- Alright, you walked the floor of the 2015 Safari Club International Convention, you took your notes, sifted through all of the brochures, made your decision and put deposits down on a variety of different trips.
Now, dreaming has become a reality, but in order to make the most of your trip, you had better be prepared.
Time to Gear Up.
Purchasing hunting gear is a part of life for any dedicated hunter, and while walking the floors of the SCI show, I found a variety of different equipment which is worth a closer look.
Sitka Gear: Sitka Gear  ( https://www.sitkagear.com/ ) is not just a regular piece of clothing, it is a system of clothing which is essentially alive. If you have not already seen the new improvements and gear systems available this year from Sitka, here are a few of the pieces of gear I suggest looking at.
First off, Sitka has caught my eye since the different layers work together. From the different purposes they serve to even the way they are designed. The team working the Sitka booth told me one of the benefits of their system is, with each layer, the neck sizes and underarm areas are enlarged in order to comfortably fit and provide maximum non binding movement to you as you hike and glass.
For the big game hunter, Sitka offered gear which can fit the early season quest for elk and deer in the mountains, through the cold months sitting on stand for big whitetails, even to hunts for game like Muskox. This is achieved by having gear which works together.
I was impressed with the new Kelvin down ultra Lite Jacket, the Jet Steam and Jetstream Lite Jacket which look like they will preform well in the crisp September mountains chasing Elk and Mule Deer.
Kentrek Boots: No secret your feet must be taken care of and can make or break your hunt.
I was impressed with Kenetrek Boots ( https://www.kenetrek.com/ )  because of the materials and design. They covered the major points of a hiking, hunting boot I personally look for. They use 2.8mm of full grain leather, a one piece vamp construction with no seams down the tongue of the boot. According to the company, this increases abrasion resistance. The extra padding in the collar of the boot was especially nice, but I loved the outsoles.
The K-Talon Outsoles and Traction Teeth give these boots incredible grip while traversing difficult terrain. My father once described the importance of rugged outsoles and treads on a boot since, "they are your claws in the mountains. To top this boot off, they come with a fully encompassed toe cover. When you spend ten or more hours per day digging your feet into rugged terrain at a 45 degree angle, you will be happy for a well covered boot toe.
Trijicon Spotting Scopes: Spotting your game is an important part of hunting, wouldn't you say?
Trijicon's ( www.trijicon.com )new 20-60x HD Spotting Scope has already turned heads, especially since they are made with the strength of magnesium and provide the balance one needs for glassing game at long ranges. Trijicon has also tackled the issue of fogging by using dry nitrogen within the make up of the scope. With the rubberized exterior, this looks like a valuable piece of equipment to have in your pack whether you are on top of the world chasing goats and sheep or are looking for the Gray Ghost.
Badlands Packs: Traveling with gear can be a pain. We have all been there. Badlands Packs ( www.badlandspacks.com ) , Terraglide provides protection and ease of transportation. Weighing in at only 12 pounds, the bag has a capacity of 9500 cubic inches.
The Badlands team told me this bag also allows you to safely transport your bow. Easily maneuverable,sleek, and gives your gear added protection. The Terraglide might be a good bag to consider as you begin packing your gear.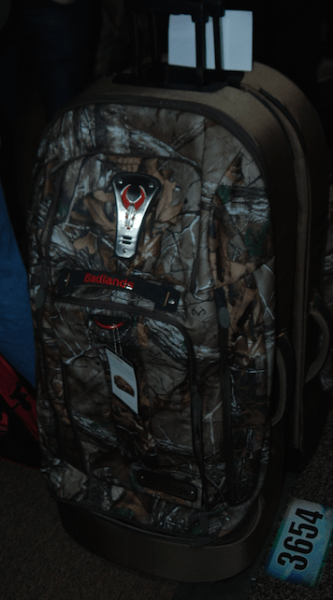 About Jason Reid:
Jason Reid is a writer and business professional from upstate New York. After deciding to pursue his dream of becoming an outdoor writer, Jason started a blog from his dorm room at Houghton College, growing it and working hard to earn opportunities. While bowhunting big game is his ultimate passion, Jason welcomes all outdoor challenges which force him to push his limits. Jason's work can be viewed on his website Pushingthewildlimits.com