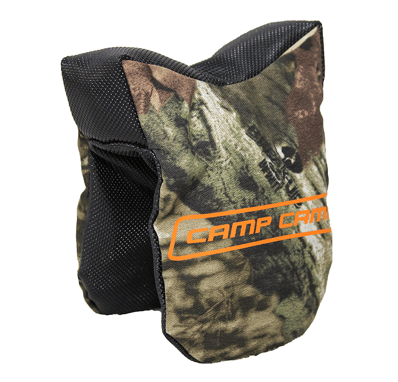 Mossy Oak
ROGERS CITY, MI – (AmmoLand.com) The first and only shooting bag made in the USA with officially licensed Mossy Oak brand camouflage, The Shooting Bag from Camp Camo, was designed with the single purpose of stabilizing your shot without becoming cumbersome.
Its size was carefully thought out to provide the most stability without being too bulky; no one wants to carry around a huge shooting bag. The unique high-tac, non-slip lining keeps The Shooting Bag in place no matter what surface you may be shooting from. The cradle that holds the gun was designed to meld around the stock, which adds a perfect amount of stability to increase the accuracy of each shot on the range, in the deer blind, or from a fence post.
The Shooting Bag from Camp Camo is built to last using 600 Denier water-resistant material.
The Shooting Bag™ stabilizes your gun for a more accurate shot when compared to not using a stabilizer. It ships unfilled. Fill it with whole or crushed corn, beans, buckwheat hulls or rice. Fill size is 6-inches wide, 7-inches high and 2-inches deep. Retail price is $29.95.
For more information, visit www.camp-camo.com.
Camp Camo produces officially licensed products of Haas Outdoors Inc. Haas Outdoors Inc. is headquartered in West Point, Miss., was established in 1986 and is home of Mossy Oak (www.mossyoak.com). Mossy Oak specializes in developing and marketing modern camouflage designs for hunters and outdoorsmen. Mossy Oak patterns can be found on a multitude of products worldwide. Haas Outdoors Inc. is the outdoor industry leader in modern camouflage design, international licensing and marketing. Haas Outdoors Inc. markets its services and products under widely recognized brands including: Mossy Oak, BioLogic, Mossy Oak Productions, MOOSE Media, Nativ Nurseries and Mossy Oak Properties.