USA (Ammoland.Com) Julie McQueen and Daniel Lee Martin, hosts of Brotherhood Outdoors TV show, are hosting meet & greets while attending the National Wild Turkey Federation Convention in Nashville, Tenn. February 12-15.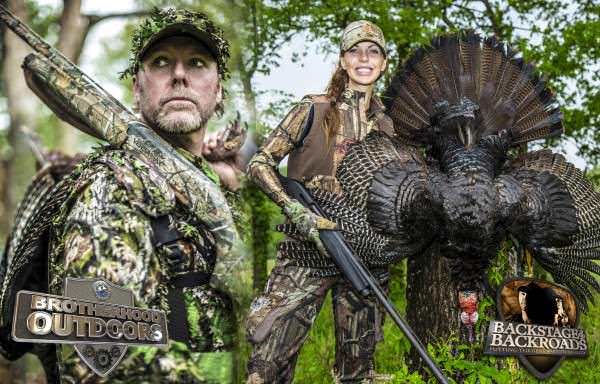 Julie and Daniel Lee will be in Ryman Hall B6 on February 14 from 1-2:15 p.m. They will be available to answer fans' questions, sign autographs and take photos.
Julie and Daniel Lee are America's outdoor couple as they hit the road filming amazing adventures with their production studio, Backstage & Backroads Productions. Julie found her way into the hunting industry as a pro-staffer back before any other girl had even tried. She also made a name for herself in the fashion industry by working in Los Angeles, New York, and all over Europe. She just might be the only girl to fly from a photo shoot in France, land in the U.S., and climb directly into a tree stand. Daniel Lee is a professional golfer and advertising executive, but left it all behind in 1997 to pursue his dream of becoming a country recording artist. He's opened for Willie Nelson, Charlie Daniels, Clint Black and Vince Gill, to name a few, plus annual performances at Fan Fair in Nashville. In November of 2002, Martin became the first artist signed to ChinMusic Records.
Learn more about Julie and Daniel Lee at http://backstageandbackroads.com and on Facebook at https://www.facebook.com/juliemcqueen.brotherhood?ref=br_tf
Brotherhood Outdoors is a show by the Union Sportsmen's Alliance with new episodes airing exclusively on Sportsman Channel Sundays at 11 a.m. ET. Learn more about Brotherhood Outdoors at https://www.facebook.com/BrotherhoodOutdoorsTv and about the Union Sportsmen's Alliance at http://unionsportsmen.org