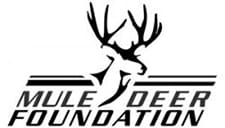 Salt Lake City, UT -(Ammoland.com)- One day before the doors opened for the Western Hunting and Conservation Expo, the Mule Deer Foundation (MDF) hosted the Western Association of Fish and Wildlife Agencies' Mule Deer Working Group and a meeting with regional USDA Forest Service staff to discuss opportunities for mule deer conservation.
The meetings were held at the Salt Palace Convention Center and focused on ways that MDF and its partners can coordinate with state agency deer management efforts as well as develop stewardship agreements for habitat conservation on federal public lands.
"Hosting these meetings allows us to ensure that we are on the forefront of mule deer and black-tailed deer conservation with the agencies that have the most impact on these species," said Mule Deer Foundation President & CEO, Miles Moretti. "We are pleased that both the Forest Service and the Western Association of Fish and Wildlife Agencies joined us here in Salt Lake to talk about what all of us can do for mule deer when we work together."
More than 20 Forest Service wildlife biologists, partnership coordinators and regional staff from across the western states as well as the Washington office opened a three-day meeting on Wednesday afternoon. The attendees will be working with MDF's regional and headquarters staff to outline the opportunities for stewardship agreements for habitat work on national forests. The agency can partner with non-governmental organizations like MDF and their chapters to provide matching funds and hands-on habitat management efforts. MDF has operated under a Memorandum of Understanding with the Forest Service for more than ten years to provide habitat stewardship activities on public lands, such as removal of overgrown juniper in sage-steppe habitats or re-seeding of native grasses and forbs.
"Our chapters have been working closely with the Forest Service for many years, but this show of support from the agency and the opportunities that will develop based on the contacts we make this week will be fantastic," said Stan Baker, MDF's stewardship coordinator.
The Mule Deer Working Group meeting focused on a number of management issues that state and provincial fish and wildlife agencies are facing as they work to improve mule deer populations across the west. The working group's purpose is to find solutions to common mule deer management problems and to optimize cooperative research and management in the western states and provinces; deer biologists from states across the West attended the meeting. The agency representatives discussed the status of mule deer and black-tailed deer across their range. In addition, they received updates on current translocation efforts in Utah and New Mexico, reducing deer/vehicle collisions, and habitat re-seeding guidance. MDF staff also briefed the states on their efforts to identify mule deer conservation opportunity areas where habitat management efforts can be most effective.
"The Mule Deer Working Group has been an effective network for state and provincial mule deer and black-tailed deer managers for nearly two decades," said Jim Heffelfinger, chairman of working group and regional game specialist for the Arizona Game and Fish Department. "It's essential for this group to meet regularly to talk about the many issues that have been impacting mule deer across the West and it is logical for these experts to meet at MDF's annual convention to keep moving forward together for mule deer conservation."
About MDF
The Mule Deer Foundation is the only conservation group in North America dedicated to restoring, improving and protecting mule deer and black-tailed deer and their habitat, with a focus on science and program efficiency. MDF is a strong voice for hunters in access, wildlife management and conservation policy issues. MDF acknowledges regulated hunting as a viable management component and is committed to recruitment and retention of youth into the shooting sports and conservation.
Get involved at www.muledeer.org or call 1-888-375-3337.