USA (Ammoland.Com) – Melissa Bachman, host of Winchester Deadly Passion, and huntress extraordinaire will be at the Deer & Turkey Expo this weekend, February 20-22 at the Prairie Capital Convention Center in Springfield, Ill. Bachman is selling Deadly Passion apparel and will speak with fans all three days at her booth 227 in the main hall. She's also hosting seminars throughout the weekend titled "Hunting Adventures Far & Wide."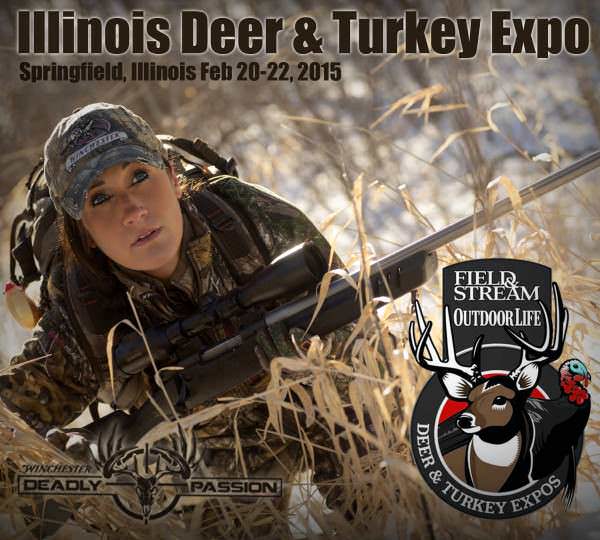 Bachman's seminar schedule is: Friday at 4:45 p.m., Saturday at 11 a.m. and Sunday at 1:30 p.m.
The full schedule is available here: http://www.deerinfo.com/illinois/seminars
Attendees can also buy their tickets to the Deer & Turkey Fest online to avoid the lines at http://www.deerinfo.com/illinois/ticketing
Learn more about Winchester Deadly Passion at http://MelissaBachman.Com and at http://Facebook.Com/WinchesterDeadlyPassion
About Winchester Deadly Passion: Every good hunter needs a solid role model, and Melissa Bachman, host of Winchester Deadly Passion, fits that bill perfectly with a unique ability to share her love for hunting with passionate fans and viewers. Winchester Deadly Passion is 26 weeks of non-stop action and pure entertainment as Melissa travels the globe going head-to-head with everything from world-class red stag and thousand pound gators to Boone and Crocket whitetails and thunderous bull elk. With rifle, bow or shotgun in hand, Melissa's fast-paced, in-the-moment hunting style will keep you on the edge of your seat, while her expertise and decades of experience give viewers useful tips and strategies they can use afield.
With a company heritage dating back to 1866, Winchester Ammunition was there for the taming of the American West, the Allied Forces' victory in World War II and through the years, millions of fond memories made in the great outdoors. Known as The American Legend™, Winchester is a global leader in sporting, law enforcement, military and personal defense ammunition production. Winchester continues to raise the bar with new products like AA TrAAcker, Varmint X and the 17 Win. Super Mag. To learn more about Winchester, visit Winchester.com or connect with Winchester at Facebook.com/WinchesterOfficial
###