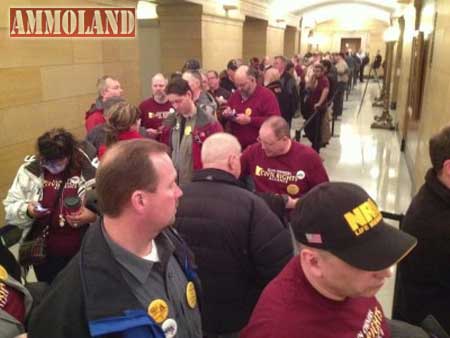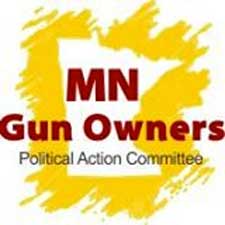 Minnesota –-(Ammoland.com)- After two years of playing defense before a hostile group of anti-gun leaders in the Minnesota legislature, it's far past time that we worked to restore our lost Second Amendment rights.
Immediately after last year's election of a Pro-Second Amendment majority to the Minnesota Legislature, we started working with our partners at the Gun Owners Civil Rights Alliance (GOCRA) and the National Rifle Association to bring those priorities to reality.
Last week at the first annual Minnesota Gun Owners Rally Day (MNGOLD), along with our partners at GOCRA, we shared the following legislative agenda:
Right to Keep and Bear Arms Amendment to the Minnesota Constitution

This fundamental right is guaranteed in 46 other state's constitutions… but not in Minnesota.

It's long past time to enshrine this right in our own state's highest law.

Ban "Emergency" Orders for Gun Confiscation

Remember when police when door to door after Hurricane Katrina, confiscating people's self-defense firearms just when they were needed most?

Governor Dayton could make such an order tomorrow. That option should be off the table.

Legalize Firearm Suppressors

These important safety devices not only make shooting quieter and more enjoyable, but they can keep you from permanently damaging your hearing if you have to fire a gun in your home.

They're legal in 39 other states. Why not Minnesota?

Constitutional Carry

We don't pay a fee to speak. We don't have to pass a background check to go to church.

We don't have to take a class before we can gather in a group.

So why do we have to do all that to exercise our Second Amendment rights?

Like all gun control, all of these hurdles serve to delay and deny a fundamental right to those who need it most, and can afford it least.

Stop Police Departments from Delaying Purchase Permits

The Minnesota Legislature gave police chiefs and sheriffs seven days to process permits to purchase a pistol or a "scary black rifle".

Most do just fine, but some departments take three, four, or even five weeks to process these permits.

We need to make sure that all public servants follow the law: A right delayed is a right denied!

Remove Redundant Capitol Complex Carry Notification

Did you remember to notify the Commissioner of Public Safety that your permit information is already in her permit database?

That's what you're doing by providing notification of your intent to carry at the State Capitol Complex.

It's time to fix this law, which stopped making sense in 2003, when the Legislature gave DPS $1.2 million to create a statewide permit database.

Self-Defense Law Reform

Under currently state law, your right to self-defense decreases the moment you step outside your door.

Court cases have completely rewritten the plain language of Minnesota statutes, to the point where you practically need a law degree to understand what your rights are – and what will get you locked up for life.

Should law abiding citizens be coerced into surrendering their property, their right to move freely, and even their lives, to violent criminals?

Note: This legislation passed the Minnesota House & Senate in 2012 and was then vetoed by Governor Dayton.
We've been working behind the scenes with our allies in the legislature and our partners at GOCRA and the NRA to bring this legislative agenda to life during the current session. One bill has already been introduced to address the Capitol Complex Carry Notification issue, and you'll see more in the near future.
But we need your help to make this happen! Here's what you can do in just a few minutes:
Contact your legislators in the Minnesota House and Senate. Let them know that you support the MNGOPAC/GOCRA legislative agenda and expect them to vote to support your Second Amendment rights.
Signup as a volunteer. We need volunteers like you to help staff our events, marshal at events, staff a gun show table or booth, and help with other tasks. There are even things you can do from your home a few hours a month that will help advance our cause. Signup now!
Contribute. Even a $5, $10, $15, or $25 donation goes a long way towards helping support our activities at the State Capitol or with the next election cycle. If you can, support us as a sustaining donor – one easy monthly payment, for just pennies a day, will directly support our efforts to defend the Second Amendment in Minnesota.
Thanks for your ongoing support!
Yours in Liberty,
Blue-Signature—Bryan.gif
Bryan Strawser
Interim Chairman and Executive Director
P.S. This agenda will never happen this session without your support. Take a few minutes today and signup to be a MNGOPAC volunteer – and send over your most generous contribution to help support our efforts.
We're depending on supporters like you to make a difference in 2015!