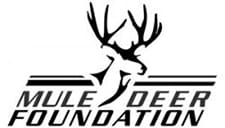 Great Falls, MT –-(Ammoland.com)- The Mule Deer Foundation and conservation partners in Montana recently acquired over 2,800 acres of land near Craig, Montana, protecting important year-round habitat for mule deer and other big game wildlife and opening access for sportsmen.
Known as "Whitetail Prairie," the property adjoins the 32,000-acre Beartooth Wildlife Management Area and was immediately conveyed to the Montana Fish, Wildlife and Parks Department to be added to the WMA. MDF joined its partners the Rocky Mountain Elk Foundation, Safari Club International chapters in Billings and Great Falls and the Cinnabar Foundation to support the acquisition.
MDF utilized Chapter Reward dollars from the Lewis & Clark, Granite Peak, and High, Wide and Heavy Chapters, along with funding generated from the sale of mule deer license plates in the state.
"We have once again shown how important the funds that we raise are to our state – because of the strong support of Montanans for MDF and mule deer conservation, we are able to pool our fundraising dollars and make a big impact for mule deer and sportsmen's access," said Michael Kuiper, MDF regional director in Montana.

"The Whitetail Prairie acquisition shows the value of partnership with other conservation organizations and how hard we all are working for Montana's hunters and anglers."
The Whitetail Prairie property includes intermountain/foothill grasslands that are important to deer, elk and numerous other wildlife species as well as mountain stream habitats important to westslope cutthroat trout. In addition, the acquisition guarantees public recreational access to the Whitetail Prairie property and to the adjoining Bureau of Land Management and Department of Natural Resources & Conservation lands. The property is likely the only opportunity to expand the Beartooth WMA due to large private land holdings on the north and east boundaries and the U.S. Forest Service's Gates of the Mountains Wilderness Area to the south.
"This acquisition addresses the number one concern expressed by Montana hunters, and hunters across the West – loss of recreational access to public lands," said Mule Deer Foundation President and CEO, Miles Moretti.

"MDF knows that this is a big issue and it is critically important that we designate our conservation dollars to protect habitat and secure access. We are pleased to work with our conservation partners to make this project a reality."
About MDF
The Mule Deer Foundation is the only conservation group in North America dedicated to restoring, improving and protecting mule deer and black-tailed deer and their habitat, with a focus on science and program efficiency. MDF is a strong voice for hunters in access, wildlife management and conservation policy issues. MDF acknowledges regulated hunting as a viable management component and is committed to recruitment and retention of youth into the shooting sports and conservation. Get involved at www.muledeer.org or call 1-888-375-3337.