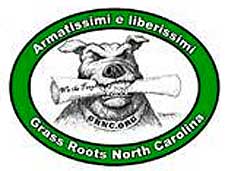 North Carolina –-(Ammoland.com)- Taking a page out of Bloomberg's "No More Guns" bus tour that memorialized terrorists (like the Ex-LAPD spree killer and Boston marathon bombers) the rabidly anti-gun (and recent Bloomberg acquisition) North Carolinians Against Gun Violence (NCGV) are planning to 'honor' felons killed during crimes in Durham, NC.
NCGV's "Vigil Against Violence" is scheduled to be held, February 26, 2015, 7PM at Shepherds House Church, 107 N. Driver Street, Durham, NC.
Of the 25 decedents planned to be taken advantage of by NCGV to push more gun control, most had significant criminal records, some spanning decades, including eight felons.
Bloomberg and NCGV are lamenting the passing of habitual felons like Haywood Jabbar Downey with a history of repeated violent attacks on women.
Notable felons on NCGV's "criminal memorial" list include the following (click on names for offender records):
Why do Bloomberg and NCGV include felons murdered by felons in their list of "victims"? Simple: because they need to pad their numbers to make violence seem to be worse than it actually is.
Gun control advocates desperately need to ignore the fact that as concealed carry has become common, violent crime has dropped to historic lows.
Even felons have a right to life and nothing justifies their murders. But the fact that a criminal lifestyle is hazardous and not conducive to longevity has nothing to do with Second Amendment rights.
Bloomberg and NCGV's attempts to use the danger inherent to criminal behavior as a rationale to attack the rights of law-abiding North Carolinians is misleading and outrageous.
Their proposed "solution" of disarming law-abiding North Carolinians will do nothing to stop criminals from killing other criminals. Making good people defenseless only encourages attacks against them.
It is time to tell Bloomberg and NCGV that memorializing felons to push policies that put our families in danger will no longer be tolerated.
IMMEDIATE ACTION REQUIRED!
Watch for media reports of NCGV's "Vigil for Criminals"
Respond in comments sections and with letters to the editor of newspapers that run stories.
About:Grass Roots North Carolina is an all-volunteer organization dedicated to preserving the freedoms guaranteed us by the Bill of Rights. Our main focus is the right to keep and bear arms. GRNC was central to drafting and passing North Carolina's concealed handgun law and since that time has continued to push for improvements to gun laws. Visit:www.grnc.org