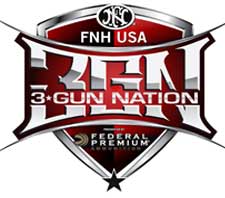 USA –-(Ammoland.com)- 3-Gun Nation and Oakley Standard Issue have announced a landmark partnership for the 2015 season.
Oakley Standard Issue, a division of Oakley, will work closely with 3-Gun Nation (3GN) to promote 3GN athletes and competitions nationwide as the official eyewear of 3-Gun Nation.
No stranger to the competition shooting market, Oakley has been actively involved in supporting several matches over the last few years. However, the growth of 3-Gun Nation has proven shooting sports to be an even greater marketing medium for corporate sponsors such as Oakley.
"We are proud to have supported various competitive shooting events and multi-gun athletes over the years," said Dane Howell, Oakley Commercial Sales Manager.

"3-Gun Nation has done a fantastic job, as an organization, to legitimize 3-Gun shooting as a professional sport. Their groundbreaking efforts and outreach have given Oakley an opportunity to promote our products to a broad audience in this market, and we're excited for what the future holds for 3-Gun."
Oakley Standard Issue will be heavily involved in the 2015 3-Gun Nation Regional Series, presented by Remington Outdoor Company. Prize tables will receive donations of Oakley's new line of protective eyewear. Each Regional Championship will feature products contributed by Oakley, and representatives will be onsite to display at the 3-Gun Nation Championship event in Tulsa, Oklahoma.
About 3-Gun Nation
The National 3-Gun Association (N3GA), through media properties "3-Gun Nation Television," 3-Gun Nation Magazine and 3GunNation.com, was formed with one mission: to promote practical shooting by shining a light on amateur and professional shooters alike, as well as the guns, gear and lifestyle that define the high-octane sport of 3-Gun competition. The N3GA and 3GN are the sanctioning bodies for the sport of 3-Gun, providing local, lady, junior, national and professional-level competition programs across the U.S. and abroad. For more information, go to www.3gunnation.com.
About Oakley Standard Issue
Oakley Standard Issue is a dedicated division within Oakley, Inc., that has partnered with the U.S. Armed Forces for more than 20 years. The alliance was formed to develop new technologies that improve the safety, performance and comfort of tactical eyewear. This initiative in research and development continues to produce combat-ready equipment for those whose lives depend on their gear. For more information about Oakley SI products; visit www.oakleysi.com.