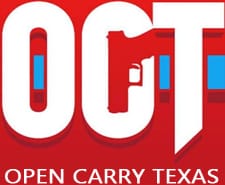 Temple, TX – -(Ammoland.com)- On February 22, 2015, an Open Carry Texas (OCT) member was detained, handcuffed and placed in the back of a patrol car (see video below) by an officer of the Houston Police Department at the Shell Station on the corner of Hollister and Highway 290.
The member was lawfully and openly carrying an AR15 rifle as part of our mission to expose Texans to law abiding citizens carrying self-defense arms in an effort to remove the stigma associated with them.
Allegedly, officers were responding to calls for service about a man walking with a rifle, which is a perfectly legal activity in Texas and one that is well known to the public and certainly the Houston Police Department by now.
OCT has had several discussions with HPD leaders and officials about open carry activities, so it is apparent that Chief Charles McLelland is refusing to properly train his officers on dealing with citizens exercising their 2nd amendment rights in accordance with the law.
Almost three months ago, an HPD officer detained another OCT member and attempted to delete video of this illegal encounter. To date, neither the Department nor Chief McLelland has charged this officer with felony attempt to destroy evidence.
OCT President CJ Grisham said, "Open Carry Texas demands that Houston Police Officers cease their harassment of law abiding Texans. Further, dispatchers need to be better trained to ask follow up questions of citizens making calls for service. It doesn't take much effort to determine the difference between an open carry advocate and a criminal. 'Is the individual pointing a gun at anyone?' 'Is the individual carrying the gun in his hands?' 'Is the individual acting suspicious in any way other than just having the firearm?' 'In what way?'

"These simple follow-up questions will prevent a needless diversion of public resources to areas where they are needed most."
Houston Police Officers also need to be better trained on "Failure to ID" laws in Texas, which are spelled out in Texas Penal Code, Section 38.02: "A person commits an offense if he intentionally refuses to give his name, residence address, or date of birth to a peace officer who has lawfully arrested the person and requested the information."
In order for an arrest to be lawful, officers must have probable cause or reasonable suspicion that a crime was, is, or will be committed. Absent these prerequisites, any interaction with a law enforcement officer is purely consensual and citizens are not required to answer questions or present identification. There is a presumption of innocence in this country and the State of Texas and citizens are not required to prove their innocence at an officer's mere whim.
The "authority" of law enforcement is directly incumbent upon the support and trust of Texans. Sir Robert Peel, the father of the modern police force, recognized this in his second principle of policing by consent:
"To recognize always that the power of the police to fulfil their functions and duties is dependent on public approval of their existence, actions and behavior, and on their ability to secure and maintain public respect."
The Houston Police Department is losing this public approval and respect with their continued disregard for the rights of the citizens they are commissioned to serve and protect.
Footage of the incident can be seen here and permission is granted to edit only for purposes of news broadcasts so long as watermarks are kept intact:
For more information, contact David Amad at [email protected] or 832-366-4044.
About Open Carry Texas: Our purpose is to 1) educate all Texans about their right to openly carry rifles and shotguns in a safe manner; 2) to condition Texans to feel safe around law-abiding citizens that choose to carry them; 3) encourage our elected officials to pass less restrictive open carry legislation for all firearms, especially pistols; and (4) foster a cooperative relationship with local law enforcement in the furtherance of these goals with an eye towards preventing negative encounters. Visit: www.opencarrytexas.org