By Major Van Harl USAF Ret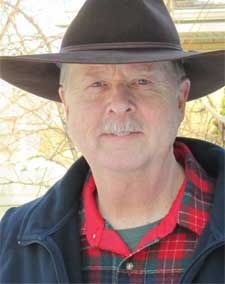 Wisconsin –-(Ammoland.com)-  During WWII, only approximately 40% of the American households cooked on an electric or gas stove. Both my parents as children lived in a rural setting without the luxury of electricity or natural gas.
The cooking was done on a wood or coal fired stove usually in the kitchen, but sometimes it was moved outside in the summer because of the excess heat build-up. Even a large percent of homes that had electricity used a wood stove to cook on.
There was no turning a dial on the gas or electric range to have a quick cup of tea. If you wanted coffee you first had to build a fire in the stove using a lot of valuable fuel for just one pot of hot water.
This could not happen just anytime, a family had to sparingly allocate wood for certain periods a day to cook and heat water.
One of the great advantages for the approximately 60% of the American homes at that time who had a wood/coal burning kitchen stove was, there would always be a source of heat in the event of a power failure.
Many of the homes with or without electricity used oil stoves to heat the house. So as long as the oil delivery driver was able to get to your home to refill your oil barrel you had heat. My mother's brother, after WWII, was one of those oil delivery drivers. If you got your barrel refilled regularly you were fine, but if hard times came and you failed to refuel (as often happened) you could suffer if unexpected cold weather appeared.
I can remember riding along as a young boy with my Uncle Ralph as he made his oil deliveries. This was in the summer time when there was no weather related crisis, but Uncle Ralph would make comments about some of his customers. A family would fail to refill their oil barrel, but would not hesitate to call Uncle Ralph up in the middle of the night wanting an emergency refill, because a snow storm was coming.
That old adage "if you fail to prepare—you prepare to fail" comes to mind. Uncle Ralph took his oil truck home at night and it sat out in the driveway were everyone could see. If he had his truck at home surely there would be no reason why Ralph would not willingly get out of bed in a blizzard to rush out and help the unprepared.
This was in the pre-cell phone days and pre-9-1-1- emergency days, but people even 50 years ago could be rather clueless about their own safety and survivability. Cold kills and the winter months always see a spike in the death rate of Americans. There can be as high as 95,000 excess deaths in the US during the winter months compared to the rest of the year, because of this up-swing in cold related deaths.
The Center for Disease Control & Prevention (www.cdc.gov) keeps track of the different ways people die in the US. Their National Health Statistics Report, number 76 (07/30/2014) gives a blow by blow breakdown on how Americans die from the cold.
There is nothing really startling about these deaths except for the fact that these are Americans who are dying because of the cold—people who live in the most advanced nation on earth continue to die from the cold.
Now if 60% of Americans still cooked on wood burning stoves perhaps there would be fewer cold related deaths. That wood stove also warmed the kitchen and the lives of the people who lived in the home.
On the flip side we would have a much higher rate of deaths by house fires if we went back to wood stove cooking.
We had a blizzard in Milwaukee this weekend and I just came in the house after snow blowing and shoveling for two hours. My electricity never went off so my home stayed nice and warm all weekend. My biggest concern for US safety in the near future is not about a nuclear war or a pandemic disease breaking out. It is a real concern about the US dollar crashing, or more draconian– the electric power grid going down across the entire country.
Two weeks without electricity and the nation is back in the stone-age. If the electricity is lost in the dead of winter, then dead will be the optimal word. What will you do if you lose your electricity for weeks on end in January in Chicago? What is your plan to get out of any big city during that crisis?
Even if you do escape from New York do not expect the good folks living in the country to be any better prepared than you. On the positive side there will be more open ground in the rural areas to dispose of the frozen bodies—no one will have the time or the energy to bury the dead properly.
What is your fall-back plan? What will you do? This column is about questions, not answers. You have to find your own answers. Do it while it is warm out.
Major Van Harl USAF Ret
[email protected]
About Major Van Harl USAF Ret.:Major Van E. Harl USAF Ret., a career Police Officer in the U.S. Air Force was born in Burlington, Iowa, USA, in 1955. He was the Deputy Chief of police at two Air Force Bases and the Commander of Law Enforcement Operations at another. He is a graduate of the U.S. Army Infantry School.  A retired Colorado Ranger and currently is an Auxiliary Police Officer with the Cudahy PD in Milwaukee County, WI.  His efforts now are directed at church campus safely and security training.  He believes "evil hates organization."  [email protected]