Bullet Trap Upgrades Make it Stronger, Tougher and Safer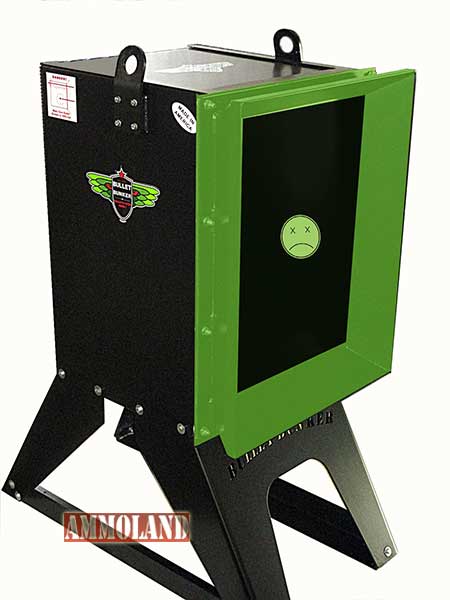 Norwalk, OH -(Ammoland.com)- Introducing the all-new Bullet Bunker Freedom Elite model designed specifically for virtually any type of round including large caliber cartridges.
With a number of technological upgrades, the new model features advancements making it the most reliable and environmentally safe way to capture everything from rimfire to dangerous game rifle cartridges. Sporting a new look, high-end materials and new design features the Bullet Bunker Freedom Elite model traps whole bullets like no other.
Part of the company's Elite series, the new Freedom Elite model works to stop bullets in their entirety, meaning no deflections, lead debris, dust or fragmentation. The new trap has a distinct green collar, is made out of 10-gauge steel and is completely powder-coated which fights against rust and extends the overall durability of the bunker. The trap has been redesigned with a "hinged" collar, making it easier to replace and empty the used rounds of ammunition from the trap. The hinge is fully protected by the collar.
These features combined with a fully beveled edge, makes for a trap with no flat spots, meaning bullets will not be directed away from the trap's impact zone. The stand itself has also been completely revamped to hold more weight. Now made with .25" steel plate, the stand now comes standard with 4" casters. Finally, stronger lifting plates have been incorporated into the standard design in lieu of 12" eye bolts.
For indoor or outdoor use, the Bullet Bunker Freedom Elite model has been tested using some of the largest cartridges on the market including .375 Holland & Holland Magnum, .416 Remington Magnum, .458 Winchester Magnum, and .470 Nitro Express rounds. Using the scientific principal of inelastic collision, the trap works to stop just about anything you can fire. Like other Bullet Bunker traps, the face of the bullet trap is self-sealing, which means after firing into the trap there is minimal to virtually no pass through holes visible to the human eye. The face is able to take tens of thousands of rounds being fired into it before needing to be replaced.
The trap itself measures 31.76″D X 30.08″W X 37.95″H, and weighs 1,000 lbs. With a specially designed rubber face built with layers of ballistic fabric laminated within the rubber, the trap is constructed of a bullet-stopping polyester-nylon blend similar to fabrics used in bulletproof vests. Behind this stands a uniquely engineered medium, which is then loaded into a steel fabricated housing.
The result is a trap that stops bullets quickly and intact whether you're shooting .17 Rimfire, .44 Magnum, .458 WIN Mag or any of the Nitro Express rounds.
About The Bullet Bunker
The Bullet Bunker is the leading manufacturer of bullet traps for indoor and outdoor firing ranges. For personal or commercial use, the bullet traps are completely designed, manufactured and assembled in the United States. The company offers 23 models for
virtually any and all types of ammunition. Founded in 2008, the company's innovation team includes former and current military and law enforcement personnel, who alongside civilian shooters, are dedicated to developing the most advanced, most effective and safest bullet collection and disposal systems, period.
For more information, please visit www.TheBulletBunker.com.