New Berlin, Wis. –(Ammoland.com)- Brittany and Helen have worked on the production side of MeatEater for two years and have built up a strong desire to hunt for the first time. That desire becomes reality on Sportsman Channel after Steven Rinella secures two cow elk tags in Montana's Sweet Grass Hills. Between hunters' safety, shooting practice and training in the woods, the women are ready to face the unknown challenges of a spot and stalk hunt. Viewers will see the ups and downs unfold on MeatEater – airing exclusively Thursday, February 26 at 8 p.m. ET/PT.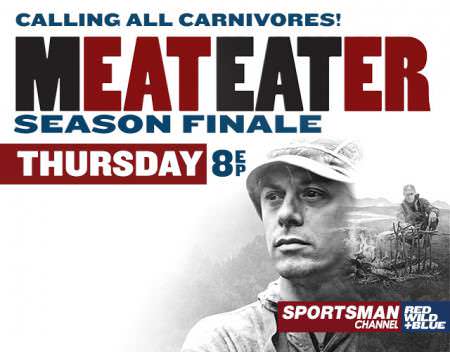 Brittany and Helen are city dwellers from New York City and have only watched hunting from a distance on their television screens. Upon arrival in Montana, Mother Nature greets the team with the harsh reality of whipping winds and cool temperatures. Both ladies are able to locate several herds of cow elk, however, topography and other elements may stand in their way of a successful result.
"I am always happy to introduce anyone – male or female – to the outdoors," said Rinella. "As our pastime grows and the number of curious onlookers become larger, we need to be ready to educate them to our lifestyle. This particular hunt has been a long time in the making and I'm happy we could make it happen."
MeatEater airs exclusively on Sportsman Channel on Thursdays at 8 p.m. ET/PT.
About Steven Rinella: Steven Rinella is an avid outdoorsman, writer, and television personality best known for his ability to translate the hunting lifestyle to a wide variety of audiences. He is the author of The Scavenger's Guide to Haute Cuisine, the award-winning American Buffalo: In Search of a Lost Icon, and most recently, Meat Eater: Adventures from the Life of an American Hunter. He is a correspondent for Outside magazine, and his writing has also appeared in the New York Times, Glamour, O the Oprah Magazine, Men's Journal, and more traditional hunting and fishing publications like Field and Stream and Petersen's Hunting.
About Zero Point Zero: Zero Point Zero Production is an award-winning production company located in Manhattan. Founded by Executive Producers Chris Collins and Lydia Tenaglia in 2003, with Partner and Managing Director Joe Caterini coming aboard in 2009, Zero Point Zero has produced hundreds of hours of television in over 80 countries around the world, and has created original content for CNN, PBS, Discovery Channel, The Weather Channel, HLN, History, and Travel Channel.  ZPZ is currently in production on Anthony Bourdain: Parts Unknown (CNN); The Hunt with John Walsh (CNN); City.Ballet  (a co-production with Sarah Jessica Parker/Pretty Matches for AOL On Originals); the two award-winning series, The Mind of a Chef (PBS) and MeatEater with Steven Rinella (Sportsman Channel); and The Getaway (Esquire/NBC). Visit www.zeropointzero.com for additional information.
About Sportsman Channel: Launched in 2003, Sportsman Channel/Sportsman HD is a television and digital media company fully devoted to honoring a lifestyle that is celebrated by millions of Americans. A division of KSE Outdoor Group, Sportsman Channel delivers entertaining and informative programming that showcases outdoor adventure, hunting and fishing, and illustrates it through unique and authentic storytelling. Sportsman Channel embraces the attitude of "Red, Wild & Blue America" – where the American Spirit and Great Outdoors are celebrated in equal measure. Sportsman Channel reaches more than 36 million U.S. television households. Stay connected to Sportsman Channel online at thesportsmanchannel.com, Facebook, Twitter and YouTube.
To find Sportsman Channel in your area click here.