Professional Shooter Julie Golob Named Person of the Year; Todd Shay Named Sales Representative of the Year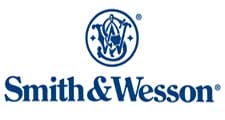 Springfield, MA -(Ammoland.com)- Smith & Wesson Corp. announced today that two of the company's representatives were honored at a special ceremony hosted by the Bonnier Outdoor Group during the Shooting, Hunting and Outdoor Trade Show (SHOT Show) held last week in Las Vegas, Nevada.
As part of the annual SHOT Business Awards, professional shooter and Team Smith & Wesson Captain Julie Golob was named "Person of the Year" while Sporting Goods District Sales Manager Todd Shay was named "Sales Representative of the Year."
"The SHOT Business Awards recognize and acknowledge leadership in the shooting-sports industry," said Slaton White, Editor of SHOT Business. "Simply put, the winners of these awards represent the best in the business."
Designed to recognize those individuals who have done the best job of promoting the shooting sports and presenting a positive image while making personal sacrifices – both in time and financial resources, the "Person of the Year" award is a tremendous accolade shared by a select few of the most accredited names in the shooting industry. As a veteran, author, hunter, media personality, shooting champion and mother, Golob's contagious positivity and relentless dedication were all contributing factors for her selection of this award.
"It's hard to put into words how it feels to be recognized by the National Shooting Sports Foundation and SHOT Business for this prestigious honor," said Golob. "Thirty years ago I fell in love with the shooting sports thanks to my dad and the wonderful people in the industry. It's because of leaders like Smith & Wesson that I am able share my passion for shooting, hunting, firearm safety and the Second Amendment with so many people. I am extremely grateful to this industry and the wonderful people in it for the support, leadership and opportunity to share the experience of safe, responsible gun ownership."
Smith & Wesson Sporting Goods District Sales Manager Todd Shay was also acknowledged at the awards ceremony and was named "Sales Representative of the Year." Shay received the award based on his community outreach and efforts to preserve and promote the hunting and shooting heritage and protect firearms freedoms. A member of the Smith & Wesson sales team for the last four years, Shay has used his leadership skills servicing the needs of retailers across the states of Delaware, Maryland, New Jersey and Pennsylvania.
"When I was first notified that I had been selected for this award, my initial reaction was that it couldn't be true," said Shay. "It certainly took me by surprise and I'm very humbled to receive this honor. To me, this award not only validates my efforts, but it also demonstrates the positive impact of the support we receive as a member of the Smith & Wesson sales team. I truly believe that anyone on our team could have won this award because the level of support provided by all of the departments within our company is unparalleled. I'm very proud to have spent the last four years working for this company which has done so much to grow and develop the shooting sports."
For more information regarding the 2014 SHOT Business Awards and to view all of the nominees and awards categories please visit www.shotbusiness.com/2014-shot-business-award-nominations/.
About Smith & Wesson
Smith & Wesson Holding Corporation (NASDAQ Global Select: SWHC) is a U.S.-based leader in firearm manufacturing and design, delivering a broad portfolio of quality firearms, related products and training to the consumer, law enforcement, and military markets. The company's brands include Smith & Wesson, M&P and Thompson/Center Arms. Smith & Wesson facilities are located in Massachusetts and Maine.
For more information on Smith & Wesson, call (800) 331-0852 or log on to www.smith-wesson.com.