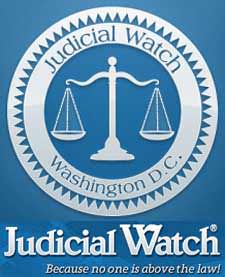 Washington, DC – -(Ammoland.com)-   As we've previousley described, President Obama's nomination of Loretta Lynch for U.S. Attorney General raises all sorts of issues about the Department of Justice's corruption at the direction of Barack Obama and Eric Holder.
During the U.S. Senate hearings this week on Loretta Lynch's nomination to the position of U.S. Attorney General, two of our notable friends provided some compelling testimony about what the U.S. Senate should focus on as it considers her nomination.
Sharyl Attkisson and Catherine Engelbrecht told U.S. Senators about how they were targeted, in large measure through this president's Justice Department, by the Obama administration in retaliation for exercising their First Amendment rights.
Sharyl Attkisson is an investigative journalist and author of the New York Times best seller Stonewalled.  On November 19, 2014, Judicial Watch (JW) joined with her to file a Freedom of Information (FOIA) lawsuit against the Department of Justice seeking "any and all records" relating to FBI background checks and other records on the award-winning correspondent.  We proved the Obama gang, specifically the Justice Department and the White House, targeted her in retaliation for her investigations into the growing Operation Fast and Furious scandal.  In an October 4, 2011, email to White House Deputy Press Secretary Eric Schultz, Attorney General Eric Holder's top press aide, Tracy Schmaler, described Attkisson as "out of control." Schmaler added ominously, "I'm also calling Sharryl's [sic] editor and reaching out to Scheiffer" (an apparent reference to CBS' Chief Washington Correspondent and Face the Nation moderator Bob Scheiffer).  Schultz responded, "Good.  Her piece was really bad for the AG."
This was just the tip of the iceberg.
Here is some of what she had to say in her testimony:
"When I reported on factual contradictions in the administration's accounts regarding Fast and Furious, pushback included a frenzied campaign with White House officials trying to chill the reporting by calling and emailing my superiors and colleagues, and using surrogate bloggers to advance false claims. One White House official got so mad, he angrily cussed me out.

"The Justice Department used its authority over building security to handpick reporters allowed to attend a Fast and Furious briefing, refusing to clear me into the public Justice Department building.

"Advocates had to file a lawsuit to obtain public information about Fast and Furious improperly withheld under executive privilege. Documents recently released show emails in which taxpayer paid White House and Justice Department press officials complained that I was 'out of control,' " and vowed to call my bosses to try to stop my reporting.

"Let me emphasize that my reporting was factually indisputable. Government officials weren't angry because I was doing my job poorly. They were panicked because I was doing my job well."
Our other friend, Catherine Engelbrecht is a business owner whose full-time call to grassroots activism first started in 2008, when she could no longer watch silently as government made decisions that stood in stark contrast to America's principles of personal liberty and economic freedom.
In 2009 she started True the Vote, a citizen-led effort to restore honor and integrity to our electoral system. True the Vote educates voters, researches the veracity of voter rolls, trains and mobilizes citizens to work at the polls, and advocates for election code reform legislation.  True the Vote was co-plaintiff and client to Judicial Watch in historic and successful lawsuits that led to the clean-up of voting rolls in Ohio and Indiana.
These lawsuits were historic because Judicial Watch and True the Vote did the work most expect from the Obama Justice Department.  But that corrupted agency, in collaboration with its radical leftist allies, has ignored provisions of law requiring that lists be clean.  And administration officials have been outright hostile to any attempt to protect election integrity.
On that point, Robert D. Popper, Judicial Watch's Election Integrity Project director, who served as deputy chief of the voting section at the Justice Department's Civil Rights Division, said that during his tenure, the George W. Bush administration in its final three years filed five lawsuits over improper maintenance of voter rolls. By comparison, Popper said, "There's been not a single lawsuit" from the Obama administration.
You know what Obama has done in terms of nullifying and violating federal immigration law.  So I trust you don't need any more convincing how the Obama administration has been damaging the rule of law on election integrity.
Catherine believes when government isn't held accountable, it inevitably abuses the rights of American citizens. So, when she learned that the Internal Revenue Service was targeting her, True the Vote, and others, Catherine stood her ground and took action.
Here's some of what she had to say to Democrats and Republicans on the Senate Judiciary Committee:
"The Department of Justice has made their presence well known in both my personal and professional life. Over the years it has become clear to me that they don't just want True the Vote shut down, they want me broken.

"In 2010, I filed two non-profit applications with the IRS, one for True the Vote, and the other for a community group I had also started, called King Street Patriots.

"Since those filings in 2010, my private businesses, my nonprofit organizations, and I personally, have been subjected to more than fifteen instances of audit, inquiry, or investigation by federal agencies, including; the IRS, OSHA, ATF, and the FBI.

"All of these inquisitions began only after filing applications for tax exemption. There is no other remarkable event, no other rationale, to explain away how for decades I went unnoticed by the federal government, but now find myself on the receiving end of interagency coordination into and against all facets of my life, both public and private."
The British Parliamentarian Edmund Burke famously said, "All that is necessary for the triumph of evil is that good men remain silent and do nothing." These brave women chose to stand up and speak out.
As for Ms. Lynch, she is either oblivious to all the lawlessness at DOJ or condones it.  She hates voter ID, pretends not to know much about IRS abuse, and seems content with President Obama's constitution-shattering nullification of our nation's immigration laws.  In fact, she suggested in her testimony this week that illegal aliens have a "right to work" in the United States.  (Most unlawfully present aliens, of course, can't lawfully work under federal law.)
So, while Establishment Washington seems to think that President Obama should get whatever nominee he wants confirmed to his cabinet, others have concern for the rule of law. Senator Jeff Sessions (R-AL) ably laid out the case against Ms. Lynch:
"President Obama's executive amnesty represents one of the most breathtaking exertions of executive power in the history of this country. After Congress rejected the President's favored immigration legislation, the White House met with the interest groups who had crafted that bill and implemented the major provisions of the legislation that Congress had rejected through executive fiat.

"The legal opinion attempting to justify this circumvention of Congress was issued by the Attorney General's Office of Legal Counsel. At the outset of this nomination process, I said that no Senator should vote to confirm anyone for this position-the top law enforcement job in America-who supported the President's unlawful actions. Congress must defend its constitutional role, which is clearly threatened.

"Unfortunately, when asked today whether she found the President's actions to be 'legal and constitutional,' Ms. Lynch said that she did. I therefore am unable to support her nomination."
Senator Jeff Flake (R-AZ) is happy to confirm Ms. Lynch.  He said,
"I met with her. I had a question about something called Operation Streamline specifically in the Yuma sector of the border," Sen. Jeff Flake told  BuzzFeed News Wednesday. "The answer was so-so on it but … my philosophy has always been the president should always get his people unless there is something disqualifying about them and there's nothing disqualifying about her."
I would submit that it is "disqualifying" to think that President Obama can run roughshod over the Constitution.   Senator Flake may want to ask the family of Brian Terry, the Border Patrol Agent killed in connection with Eric Holder's Fast and Furious gun-running crimes, if this president "should always get his people."
The editors at National Review warned that a vote for Lynch would be a vote for lawlessness:
Successful resistance to Ms. Lynch's nomination would be a clear rebuke to the president. While it would likely leave Eric Holder or an acting attorney general in office, since the president is unlikely to nominate any candidate who would not support his executive amnesty, Republicans would at least firmly demonstrate that they are unwilling to participate in the neutering of their own constitutional powers.

But if the Senate votes to confirm Loretta Lynch – in what would be the chamber's most important vote related to the president's executive amnesty since its proclamation – what else ought conservatives to think than that it portends many white flags to come?
No one has done more than Judicial Watch to combat lawlessness in the Obama administration.  Our lawyers have faced Obama's Justice Department lawyers in nearly 200 federal lawsuits.  I count at least 14 lawsuits that are active right now against the Justice Department over its unlawful refusal to comply with the Freedom of Information Act.  Loretta Lynch, to be clear, has this job opportunity because our work helped force Eric Holder's retirement.
If anyone has seen anything in this confirmation process that shows that Ms. Lynch would clean house, enforce the law, and protect the rights of all Americans, please let me know.
In the meantime, I don't see how any U.S. Senator, Democrat or Republican, could vote for Ms. Lynch, who would, at best, stand idly by despite Obama's continued violations of federal law and his oath of office.
Whatever your views, you should let your senators know them.  You can reach them through this phone number, 202-224-3121.
Until next week…
Tom Fitton
President
Judicial Watch
About Judicial Watch:
Judicial Watch, Inc., a conservative, non-partisan educational foundation, promotes transparency, accountability and integrity in government, politics and the law. Through its educational endeavors, Judicial Watch advocates high standards of ethics and morality in our nation's public life and seeks to ensure that political and judicial officials do not abuse the powers entrusted to them by the American people. Judicial Watch fulfills its educational mission through litigation, investigations, and public outreach. Visit: www.judicialwatch.org
"Because No One Is Above The Law"