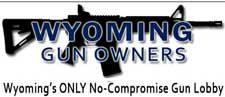 Wyoming –-(Ammoland.com)- I have great news from Wyoming's Capitol, the Repeal Gun Free Zones Act now has two sponsors in the Wyoming Senate.
And after visiting with them, I can tell you they are both committed to defending your right to self defense.
Senator Curt Meier (R-Goshen/Niobrara/Weston) is the primary Senate sponsor, and Senator Cale Case (R-Freemont) is the lead co-sponsor for this much needed legislation to restore gun rights in Wyoming.
As I am writing you HB-114 is sitting on Sen. Meier's desk, making it very easy for your State Senator to walk over and become a cosponsor.
This bill (HB-114) passed the Wyoming House 42-17 without any amendments.
And now the anti-gun lobby is cranking up the pressure on the Senate — demanding that they not advance this bill.
As we witnessed in the House, the lobbyists have a stack of poisonous amendments ready to file in the Senate.
If the gun control crowd is successful, HB-114 will die a death by a thousand cuts in the Senate.
With your help we can mobilize gun owners via direct mail, Facebook, Internet-ads, and by using targeted email campaigns.
Remember, these Senators work for YOU.
You elected them to go to Cheyenne to represent and vote for YOU, and to be YOUR voice in the Capitol.
Make sure they don't forget who they work for.
So please, make your calls today!
Call the Senate switchboard at 307-777-7711. You can find your Senator by clicking here.
Make sure your Senator co-sponsors HB-114 Repeal Gun Free Zones, that is currently sitting on Senator Curt Meier's desk.
Make sure that your Senator knows how important it is for Repeal Gun Free Zones to pass the Senate without any amendments.
Let them know that HB-114 did pass the House with a 42-17 vote and that you expect the same from the Senate.
Please get your friends involved today – have them make the necessary phone calls and have them send emails right away.
For Liberty,
Anthony Bouchard
Executive Director
Wyoming Gun Owners
And if you can, please chip in whatever you can afford to Wyoming Gun Owners right away, so I can mobilize as many Wyomingites as possible using direct mail, Facebook, Email, and more.
Your financial support will help to keep mobilization in full gear!
About:
Wyoming Gun Owners is a not-for-profit issue advocacy organization that is on a deliberate mission to protect and defend the Second Amendment. Contributions to WyGO are unlimited and are used to expose politicians who treat your rights with contempt. Contributions to WyGO are not deductible as charitable contributions for tax purposes. www.wyominggunowners.org