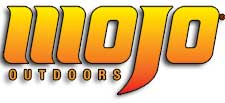 Nashville, TN -(Ammoland.com)- MOJO has once again REVOLUTIONIZED how we hunt, this time changing the game with turkeys with their Scoot & Shoot and Tail Chaser Decoys.
They created a sensation in the turkey hunting world by, not only causing gobblers to charge the hunter, but allowing the hunter to be successful in midday when turkeys are hard to call and when they are henned up and usually not huntable. It brings a whole new level to turkey hunting!
NOW, MOJO has re-designed the Tail Chaser which clamps to the shotgun barrel and both hides the hunter plus allows him or her to creep turkeys in the sensation caused by the Scoot & Shoot Decoy, but adding a pair of legs to hold your gun in the up-right position to greatly assist in creeping.
The TAIL CHASER ERECT is the most effective "run and gun" product ever devised for turkey hunting. The Scoot & Shoot, Tail Chaser and Tail Chaser Erect are shipping to retailers across the country for the upcoming seasons.
Check out these innovative products by MOJO Outdoors that allows the hunter not only the most exciting type of hunting that has become known as "Scoot & Shoot" but allows success when gobblers are henned up or not responding to the call. See them in action at:
Suggested Retail:
Tail Chaser Erect — $39.99
Scoot & Shoot — $79.99
Tail Chaser — $24.99
For more detailed information on these turkey products, go to: http://bit.ly/mojo-turkey.
About MOJO Outdoors
MOJO has long been recognized as the World Leader in Motion Decoys and progressed as the leader in All Decoys. Today, MOJO is a company unsurpassed in bringing a wide variety of innovative outdoor products to the market that revolutionizes the outdoor experience.
For more information, please visit www.MojoOutdoors.com.