USA (Ammoland.Com) – Michael Hendrick of Bullets & Broadheads TV is appearing on NRA NEWS Cam & Co with host, Cam Edwards, at 5:15 p.m. ET today, March 31, to talk about his recent experience of being targeted by his online merchant for simply setting up an online store to sell hunting related merchandise.
"I was dealing with this online merchant from morning until night trying to explain what I was selling what within the law of what I could sell on my website. They kept trying to tell me I couldn't sell something on my site. You can't tell me what I can, or can't, sell on my own site," said Michael Hendrick. "Once I would answer one question, they would throw up another roadblock – like calling a Barnett 410 crossbow an 'automatic assault bow with a scope.' That was a first for me."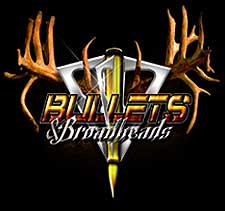 Hosted by Cam Edwards, and airing from the NRANEWS Studios in Farmville, Va., and Washington D.C., NRANEWS Cam & Co. is the first and only news-talk series on television that can authoritatively address the issues that are vital to more than 80 million American sportsmen and sportswomen. The show is celebrating 10 years of broadcasting on NRANEWS.com. The show is also simulcast on SiriusXM (Patriot and Patriot Plus) and podcasts are available on iTunes and iHeartRadio. From segments like Curator's Corner sponsored by Bass Pro Shops, Ask Cam and Armed Citizen Files, Cam & Co. presents the news of the day in an engaging, real-time manner.
Learn more at http://bulletsnbroadheads.com Learn more about where to watch Sportsman Channel and NRA NEWS Cam & Co at http://thesportsmanchannel.com
Learn more about Bullets & Broadheads at http://www.bulletsnbroadheads.com and on Facebook at https://www.facebook.com/pages/Bullets-Broadheads/107777472594725?ref=hl
About Bullets & Broadheads
Big country, big whitetails, big hearts and big family ties – Bullets & Broadheads is a true grit, real story, Texas country outdoor show. For generations, the Hendrick family grew up harvesting trophy wildlife from the far stretches of Texas underbrush. Today, Michael, Sonia, Michael J., and Mckenzie share those traditions in search of their next monster whitetail. Texas is big country, where the hunts are wild, the people are a dose of southern comfort and family blood comes first. The Hendricks bring Texas living, community and conservative hunting to viewers across the nation. Learn more at http://bulletsnbroadheads.com