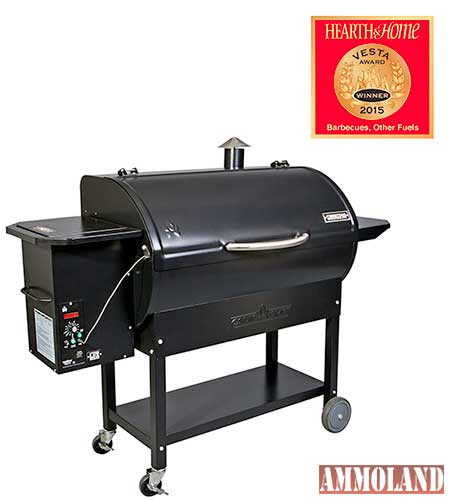 Hyde Park, UT -(Ammoland.com)- Camp Chef, an industry leading manufacturer of outdoor cooking equipment, received special recognition during Friday night's awards ceremony at the Hearth, Patio and Barbecue Expo in Nashville Tenn.
The new SmokePro LUX Pellet Grill received the Vesta award for its innovation, design and technology.
"The Camp Chef team has put a lot of hard work into our new pellet grill so this is very rewarding" said Kent Millecam, Vice President of Sales and Marketing. "The new user friendly features really add value to those cooking on the back patio."
The new SmokePro LUX Pellet Grill is the largest and most recent addition to the company's pellet grill line. Similar to the DLX model, the LUX is built with innovative digital control features that include both high and low smoke settings and a temperature range from 160°F up to 500°F. The digital temperature readout gives specific, accurate readings for both meat and smoke chamber temperatures. These features help eliminate the guesswork and provide users with accurate results.
When finished cooking, the cleaning is simple because the patented simple ash clean-out system allows users to empty ash with the pull of a lever. The large 18 pound capacity hopper also features a cleanout and feed mode, making it easy to change pellet flavors when desired. These features are also found in the DLX model.
The SmokePro LUX Pellet Grill has been designed with a 19.5 by 34 inch grilling area and an added warming shelf, giving users 875 square inches of total cooking surface area. A side shelf, large utility shelf and rolling caster wheels have been added for convenience. Additional accessories are available.
The SmokePro LUX Pellet Grill has an expected availability of mid-April. MSRP: $1042
Now celebrating 25 years of quality outdoor cooking, Camp Chef is a leading innovator of outdoor cooking equipment including stoves, smokers and a full line of cast iron cookware. From backcountry to back patio Camp Chef is The Way to Cook Outdoors.
Visit www.CampChef.com for more information.
About Camp Chef
Since 1990 Camp Chef has been revolutionizing the outdoor cooking industry by introducing one product innovation after another. Camp Chef originally pioneered the modular cooking concept by introducing the worlds first portable 3 burner stove with optional add-on accessories. Over the years Camp Chef has expanded its product line to include an extensive collection of Cast Iron cookware including Dutch Ovens and Skillets. Camp Chef also offers an extensive collection of portable BBQ Gas Grills in addition to high capacity Food Smokers and portable Camp Oven. Camp Chef products are designed to be rugged and reliable ideal for the avid outdoor cooking enthusiast. Whether you are on the road, relaxing in the woods or at home on the patio Camp Chef has the products you need to help bring you outdoor cooking experience to a whole new level.
For more information, please visit www.CampChef.com.