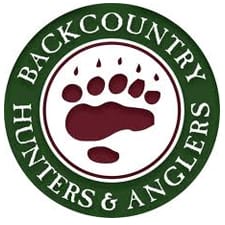 Spokane, WA -(Ammoland.com)- The Colorado chapter of Backcountry Hunters & Anglers (BHA) received the George B. Grinnell Award at BHA's North American Rendezvous in Spokane, Washington (March 6-8, 2015).
The award is given annually to a BHA chapter "for exceptional group dedication and teamwork in boots-on-the-ground conservation of America's backcountry." And from the very start, Colorado BHA has been leading the way for other state chapters. Renowned Durango-based elk hunter, hunting ethicist, writer (author of A Man Made of Elk) and Marine Corps veteran, David Petersen, formed the Colorado chapter (BHA's first state chapter) in 2005.
Colorado BHA leaders went on to hold the first state chapter Rendezvous in 2009 and started their "Habitat Watchmen" program the same year, both of which have now been replicated in multiple states. Since 2005 Colorado BHA has advocated for the protection of 22,000 acres of big game habitat along the Arkansas River in central Colorado through the protection of Browns Canyon as a National Monument—the designation was made by President Obama on February 19, 2015. They also helped protect more than 100,000 acres in southwest Colorado via advocating for passage of the Hermosa Creek Watershed Protection Act, which was signed into law during 2014.
"During the past year, the Colorado chapter worked tirelessly to ensure that policy relating to hunting, fishing and public lands protection represents BHA values," said BHA executive director Land Tawney. "Colorado BHA members spearheaded a successful effort to ban the use of drones for hunting, developed and successfully implemented guidelines for OHVs and enabled conservation of more than 130,000 acres through designation of the Browns Canyon National Monument and passage of the Hermosa Creek Watershed Protection Act. They exemplify the positive influence of which a BHA state chapter is capable—as well as the power of a committed group of individuals to effect good works in the name of sportsmen and conservation."
During the year Colorado BHA also developed proposed state legislation that requires visible identification on OHVs; successfully pushed for mandatory, publicly-available wildlife reviews of all OHV grants that involve new trail development; hosted the 2nd annual Taste of Backcountry Angling Workshop; they continue to use their model Habitat Watchmen program to keep the pulse on activities in Colorado's National Forests; and, they're collaborating on draft legislation for Gunnison County that would protect upwards of 200,000 acres through a combination of Special Management and Wilderness Areas.
Colorado chapter chairman David Lien, an Air Force veteran (and author of Hunting for Experience: Tales of Hunting & Habitat Conservation), said: "Thank you Colorado BHA for your tireless work and selfless dedication to protecting wildlife and wildlands (places like Browns Canyon and Hermosa Creek) for future generations of hunters, anglers and other outdoorsmen and women! When we all do a little, we can accomplish a lot."
Along with these and other accomplishments, Colorado BHA also hosted the 2014 BHA North American Rendezvous in Denver, where over 300 members from across the country celebrated BHA's 10-year anniversary. The (7th Annual) Colorado BHA chapter Rendezvous (& Browns Canyon National Monument celebration) will be held June 5-7 in the San Isabel National Forest west of Salida.
For more information see: www.backcountryhunters.org.
About Backcountry Hunters & Anglers
Backcountry Hunters & Anglers is The Sportsman's Voice for Our Wild Public Lands, Waters and Wildlife.
For more information, please visit www.BackcountryHunters.org.