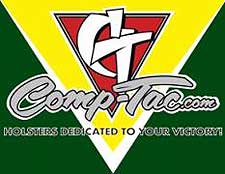 Houston, TX -(Ammoland.com)- Team Comp-Tac's Randi Rogers won her seventh consecutive Indoor National Ladies Championship title at the Smith & Wesson IDPA Indoor National Championship held February 25-28 in Springfield, Massachusetts.
With her final time of 247.46 seconds, Rogers finished ninth Master in the Stock Service Pistol Division where she competed with a Smith & Wesson M&P Pro pistol.
"Competing at the Smith and Wesson Indoor Shooting Center is a one of a kind experience. This is the only match all year that I shoot indoor and the complex stages, low light scenarios and challenging shots require each competitor to stay on top of their game. I really enjoyed the match and was able to take home lots of ideas on what to practice next," said Rogers, Team Comp-Tac member and Sales and Marketing Manager for Comp-Tac.
Comp-Tac Victory Gear was fully involved at this year's Indoor National Championship as both a stage sponsor of the match and a vendor. As the top competition and concealment holster brand among IDPA members, Comp-Tac operated a busy vendor's area which was a hit with shooters throughout the competition.
"IDPA consistently surveys their members on what equipment they use, and Comp-Tac has been named the leading holster brand for the last three years. IDPA members know we don't just build holsters, we use them. We carry them on the range for competition and carry them every day for concealment. The opportunity to speak with competitors and customers at matches to learn what they want, and what they need, is a key to our success," explained Gordon Carrell, a Team Comp-Tac member and the company's General Manager.
Next up for Team Comp-Tac, Rogers and Carrell will compete in the taking place March 25-28, in Caguas, Puerto Rico.
For more information on Team Comp-Tac, and the full line of Comp-Tac Victory Gear holsters and accessories, visit www.Comp-Tac.com, like Comp-Tac on Facebook at www.facebook.com/CompTac, or follow @CompTac on Twitter.
About Comp-Tac Victory Gear
In 2000 I started Comp-Tac with the intention of designing holsters of the highest quality for defensive and competition shooting. I started off with the Locking Paddle and over the years have designed over 30 products with 92,000 possible variations to accommodate your lifestyle and needs. Comp-Tac has grown from a one man shop to a business with dozens of employees. What started in my garage has grown into a drafting room, production line, customer service department, shipping department, and leather shop. Thanks to the great support of our customers and through their input we continue to grow and refine our product line. Whether you are competing for fun or in the fight for your life, no company offers more holsters dedicated to your victory.
For more information, please visit www.Comp-Tac.com.