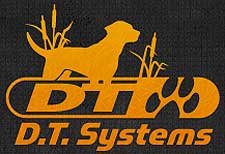 Dallas, TX. ––Ammoland.com)- D.T. Systems has started an online dog training blog on their website. www.dtsystems.com/Blog/
This blog series will cover all aspects of dog training and hunting.
Blog entries will be written by members of the D.T. Systems Pro-Staff. This group of pro-staff are experts in their fields and are accomplished trainers and breeders. A full description of pro-staff members can be found here. http://dtsystems.com/pro-staff
"We are excited to be able to provide this blog to our customers," said Director of Marketing Brian Lasley. "Our pro-staff members collectively have hundreds of years of dog training experience and the topics covered in these blogs will help users be a better dog trainers and owners."
Topics already covered in the blog series include getting a new puppy, shed antler training, dog obedience, e-collar training and several other related blogs concerning canine health and care.
Blogs will be updated frequently so be sure to check www.dtsystems.com/Blog/ for all things dog training related.
To learn more about D.T. System Products and its complete line of dog training products, visit www.dtsystems.com. Also visit the D.T. Systems Facebook page, Instagram, Twitter and YouTube Channel.