More than 14,000 deer harvested for only the fifth time in state's history.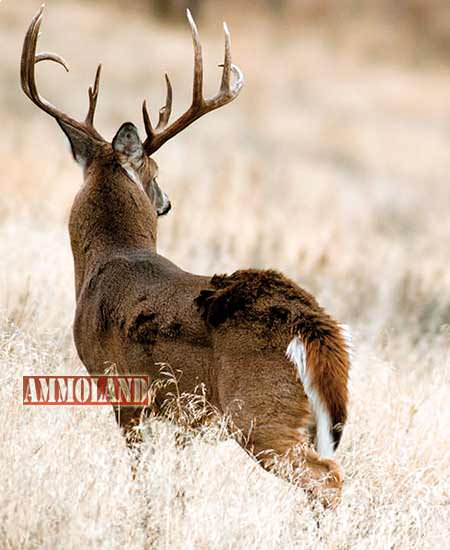 Delaware-(Ammoland.com)- Delaware hunters harvested 14,239 deer during the 2014-2015 season, only a slight decrease from last season's total 14,263, DNREC's Division of Fish & Wildlife announced today. The 2014-15 deer harvest ranks as the fourth all-time highest deer harvest for Delaware.
"We anticipated that hunters would have a successful season this year due to favorable habitat conditions resulting from the cool and wet spring and summer," said Deer and Furbearer Biologist Joe Rogerson, Division of Fish & Wildlife. "Delaware's highest deer harvest occurred during the 2004-05 season, with 14,669 deer. This past season, we were only a few hundred deer from setting an all-time record."
During the 2014-15 season, hunters harvested more does than bucks, with 54 percent does (7,683) and 46 percent bucks (6,556). Antlerless deer – does, juvenile bucks without antlers known as button bucks, and bucks with antlers measuring less than three inches – represented 71.4 percent of the total harvest.
Since the first year of Delaware's five-month-long crossbow season in 2010-11, when hunters harvested 398 deer, harvest numbers have nearly tripled. This season, 1,123 deer were taken during the crossbow season. Combined with the harvest from vertical bows – compound, recurve and longbows – the total archery season harvest for 2014-15 was 2,497 deer, ranking as the all-time highest archery season harvest for Delaware which had been set last year (2,446 deer).
While the statewide harvest ranked fourth all-time, several harvest records were set by hunters this past season:
Crossbow season harvest: 1,123 deer
Deer harvested with crossbows throughout all hunting seasons: 1,327
Combined archery season harvest (vertical and crossbows): 2,497 deer
Adult does harvested in a single season: 6,608
Deer harvested in wildlife management zones 1B (mid-New Castle County between I-95 and the C&D Canal), 10 (north western Sussex County), 13 (southwestern Sussex County) and 17 southeastern Sussex County, south of the Inland Bays).
Deer harvested on publicly owned lands: 1,964
Deer harvested on the Augustine (47), C&D Canal (193), Little Creek (61), McGinnis Pond (2), Midlands (107), Old Furnace (67), and Ted Harvey (50) wildlife areas, plus Trap Pond State Park (57)
"Many hunters enjoyed success this year as indicated by the total harvest as well as several records broken, and we fully expect hunters to continue to enjoy Delaware's deer hunting opportunities for years to come," said Wildlife Section Administrator Rob Hossler.
For more information about the Delaware deer harvest or any other deer-related issue, please contact Joe Rogerson at 302-735-3600, or visit the Division of Fish & Wildlife's white-tailed deer information page athttp://www.dnrec.delaware.gov/fw/Hunting/Pages/DeerInfo.aspx. More detailed harvest data will be available on this webpage in the next few weeks.
Final lottery drawing for Cabela's gift cards held Feb. 23
As an added incentive for hunters to access the Division of Fish & Wildlife's Hunter and Trapper Registration (HTR) system online rather than by phone, the Division randomly selected 20 hunters or trappers throughout the season to receive a donated $50 gift card to Cabela's. Only hunters and trappers who access the HTR system online were entered into these drawings, the first four of which were held Aug. 25, Oct. 3, Nov. 6 and Dec. 3. The fifth and final drawing was held Feb. 23, and the following individuals who accessed the HTR system online were drawn for receiving Cabela's gift cards: James O'Neill, Milford; Eric Wheeler, Townsend; Christopher Bartels, Chesapeake City, Md.; and William McKendrick, Seaford.
"Congratulations to all of our winners, and we thank them and all hunters and trappers who access our system online," Wildlife Section Administrator Hossler said.