The new truck mount allows one to carry their personal defense or conceal carry weapon with ease, reports Discrete Defense Solutions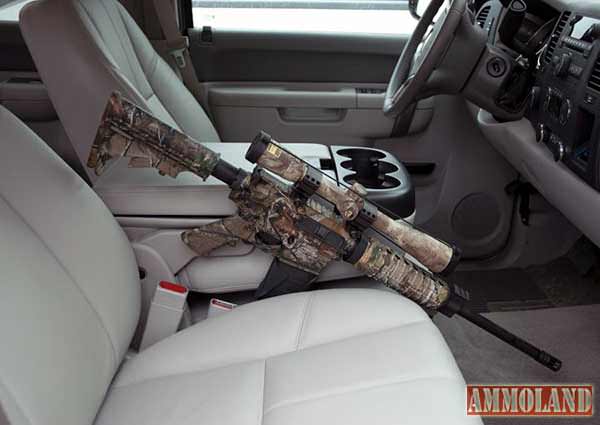 Larned, KS -(Ammoland.com)- Discrete Defense Solutions announces the release of a AR-15 truck mount designed to securely hold one's AR-15 in a truck next to the driver's seat.
Individuals need easy access to weapons in these trying times, and Discrete Defense Solutions remains committed to providing these items. The new AR-15 truck mount is one of many accessories designed by the company which are created to simplify the carrying of concealed carry and personal defense items.
"The AR-15 truck mount offers the features a gun owner needs in a product of this type. It can be easily installed by simply opening the console lid, placing the mount inside, and shutting the console. No tools are required as the clasp fits easily into this space, and it may be removed and stored when it isn't needed. Accessing the weapon isn't difficult either, as the rifle can be easily removed and replaced in a matter of seconds. All one needs to do is slide the magazine out of or into the weapon mount," Ben Rein, spokesperson for Discrete Defense Solutions, explains.
Gun owners love the new mount as it also works for Ruger Mini Rifles and it ensures optics and the rifle don't bounce around the truck, potentially getting damaged in the process. Discrete Defense Solutions offers models for a wide range of SUVs and trucks, and the mount works with PMAGs and standard GI Mags. Individuals unable to locate a mount for their vehicle model need to contact the company for further assistance, as Discrete Defense Solutions strives to meet the needs of all.
"Individuals frequently wedge their AR-15 or other weapon between the console and the seat, which often leads to the magazine sliding down to the floorboard. As one cannot control road conditions, a new option was needed, and this is where the AR-15 truck mount comes in. Discrete Defense Solutions does want consumers to understand, however, that the truck mount isn't designed for a loaded rifle. One should never transport a weapon which has ammunition in it. It just isn't safe," Rein continues.
In addition to the new AR-15 truck mount, Discrete Defense Solutions provides hand-crafted custom pistol holders manufactured using durable Kydex. One may select from inside waist band (IWB) and outside waistband (OWB) conceal carry holster designs, with all being made in the United States. Individuals choosing these products find they offer superior comfort as compared to other conceal carry holsters.
"Discrete Defense Solutions supports the right of individuals to bear arms. The company strives to make doing so easier for all and provides a wide variety of products to help individuals keep their personal defense and conceal carry weapons on hand. Visit the site today to see which products can be of assistance to you," Rein states.
For more information on the AR-15 Truck Mount, please visit http://discretedefensesolutions.com/shop/vehicle-accessories/ar15-truck-console-mount.
About Discrete Defense Solutions
Discrete Defense Solutions supports the right of all citizens to bear arms and provides products designed to allow them to do so with great comfort. Many existing holster products fail in this area, which led to the company working to create and launch new products designed for personal defense and concealed carry purposes. The goal remains to eliminate any discomfort one may experience when carrying a personal weapon, as discomfort may impede one doing so. Products made by Discrete Defense Solutions are ready to be worn on a daily basis, non-stop.
For more information about us, please visit http://discretedefensesolutions.com/shop/vehicle-accessories/ar15-truck-console-mount/