Number viewing Game Commission's live stream expected to soar as eggs near likely hatch dates.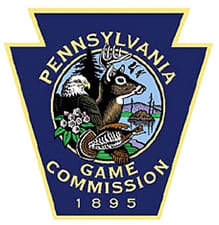 Pennsylvania-(Ammoland.com)- The Pennsylvania Game Commission's bald eagle cam already has attracted nearly 643,000 viewers, many of whom faithfully have followed the daily happenings at the nest near Codorus State Park in Hanover, Pa.
But in the coming days, those looking in on the live stream, available at the Game Commission's website, might well get to see a great miracle of nature.
Egg watch officially is underway.
It's been an eventful couple of months for the eagle pair featured on the camera. After cozying up their nest, the eagle couple was captured beak-to-beak on video, in what resembled their sharing a kiss. Then on Valentine's Day, the first egg was laid. A second egg followed on Feb. 17.
Over the next few weeks, the birds became a nationwide sensation – particularly during a snowstorm when one of adults allowed itself to be buried in falling snow so that the eggs could remain warm and dry.
While such behavior is typical, it's seldom something that can be viewed. And it soon will be known if the Hanover eagles will be rewarded for their toughness and resolve.
Bald eagle eggs typically are incubated for 35 days. That would make March 21 the likely day the first egg might hatch. Egg watch, however, already has begun.
Twitter users can track any progress by searching #eggwatch. And if you see an eaglet hatching from an egg, tag the Pennsylvania Game Commission on social media and use #HanoverEagletNews.
The eagle cam is a joint project of the Game Commission, HDOnTap and Comcast Business. Viewers from more than 140 countries have accessed the live stream so far. And the total duration of the video viewed so far equals nearly 380 years' worth.
Dave Dombroski, vice president of Comcast Business for its Keystone Region, said the company is proud to partner in this endeavor, which not only captivated viewers around the world, but has helped educate them about our national bird and symbol of freedom, the bald eagle.
"We look forward in the next few days and months to begin learning even more about these intriguing birds," Dombroski said.
HDOnTap provided the camera that relays high definition video from the nest, as well as the live streaming services so many have used.
To date, the network has served over 7 million stream requests resulting in more than 3.3 million hours, with 37.3 percent of that traffic coming from the eagles' home state of Pennsylvania, said Tim Sears of HDOnTap.
"These eagles have earned a special place in many peoples' hearts by showing their dedication and determination to successfully incubate their eggs, and HDOnTap is honored to be an ongoing contributor to the project," Sears said.
The Game Commission also would like to thank the state Department of Conservation and Natural Resources, Codorus State Park and the Friends of Codorus State Park, Swam Electric and Sunbelt Rentals for their roles in making the eagle cam a reality.
"There's no doubt this year's eagle cam already has been a success," said R. Matthew Hough, executive director for the Pennsylvania Game Commission. "And while there never are any guarantees in nature, we're all hoping the eagles' nesting attempt will be successful, too.

"We soon will find out, thanks to a strong partnership that has made it all possible," Hough said.
To view the eagle cam, visit the Game Commission's website, www.pgc.state.pa.us and click on the "Bald Eagle Live Stream" icon on the website's homepage. The live stream can be played by clicking on the window near the top of the page, and all sorts of other useful information about eagles also is available at the site.
"There's a lot of biological information about bald eagles, including descriptions on how fast chicks develop into larger birds," Hough said. "But with any luck, viewers soon will be able to witness that for themselves."