Southwest Georgia Chapter of Quail Forever donates $25,000 for quail conservation efforts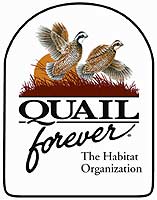 Albany, GA -(Ammoland.com)- The Southwest Georgia Chapter of Quail Forever recently hosted their first annual Georgia Quail Invitational, a two-day quail hunt which showcases southwest Georgia's upland heritage.
Held on January 15-17, the inaugural event generated revenue for quail habitat conservation efforts to help restore quail hunting in Georgia. The Georgia Quail Invitational serves as an annual fundraiser to promote and protect bobwhite quail habitat in hopes of resurrecting one of the state's most iconic species.
In their first year of hosting the Invitational, members of the local chapter granted a total of $25,000 to Tall Timbers Research Station and the Florida/Georgia Quail Coalition – financial resources that will be utilized for habitat improvements and sound research of bobwhite quail on public lands throughout each state.
"Our local chapter is proud to be part of the Albany community and the Georgia Quail Invitational, an event that supports the $100 million economic impact of quail hunting in southwest Georgia," said Bobby McKinney, president of the Southwest Georgia Chapter of Quail Forever. "We are already in the planning stages for next year's Invitational, and we look forward to providing further support for bobwhite quail conservation efforts and introduction of youth to one of Georgia's timeless traditions."
Georgia has been known as a premiere hunting destination for quail and the bobwhite was designated as the state game bird in 1970. Due to land use changes and a loss in early-successional habitat, bobwhite numbers have seen a steady decline over the past 40 years in areas of unmanaged habitat. In addition to showcasing the state's hunting heritage, the Georgia Quail Invitational highlights practices and management techniques in the southwest region of Georgia that private landowners are using to resurrect quail in notable numbers.
"We're very excited to have a non-profit with such a great reputation doing great work in the quail world," said Clay Sisson, director of the Albany Quail Project. "We're so appreciative of the support that the Southwest Georgia Chapter of Quail Forever is providing to Tall Timbers and the Albany Quail Project. This vital research provides management data that will ultimately help restore quail habitat and our hunting heritage in southwest Georgia."
Combining their annual membership fundraising banquet with the weekend long Invitational, the Southwest Georgia Chapter of Quail Forever invested $30,000 for quail conservation efforts and $3,000 for youth shooting sports programs in their first year as a volunteer group.
"We hope to build upon this momentum in the coming year to support various community efforts," added McKinney.
The Georgia Quail Invitational has been tentatively scheduled for January 28-30, 2016. For more information about the event or to become a sponsor, contact Sandy Gregors at 229-435-7721 / email.
Quail Forever in Georgia
Georgia is home to nine Quail Forever chapters and more than 1,000 Quail Forever and/or Pheasants Forever members. For more information on Quail Forever's upland conservation efforts in the state, contact Talbott Parten, Quail Forever's regional representative in Florida and Georgia, at (229) 289-8199 / email.
About Pheasants Forever and Quail Forever
Pheasants Forever, including its quail conservation division, Quail Forever, is the nation's largest nonprofit organization dedicated to upland habitat conservation. Pheasants Forever and Quail Forever have more than 140,000 members and 700 local chapters across the United States and Canada. Chapters are empowered to determine how 100 percent of their locally raised conservation funds are spent.
For more information, please visit www.QuailForever.org.