Pro-Gun Network Strengthens Resources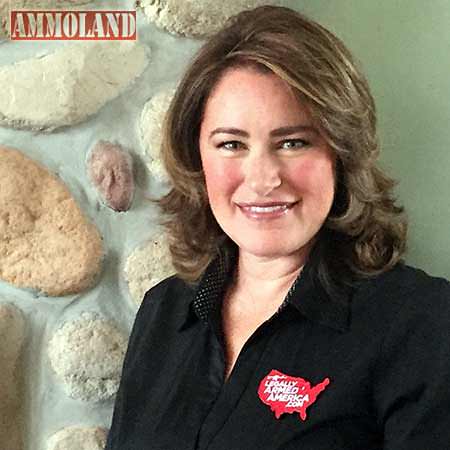 Lake Charles, LA -(Ammoland.com)- Legally Armed America Inc., the pro-gun network of companies dedicated to preserving the Second Amendment and enriching the shooting sports lifestyle, announced today that visionary marketing executive Laura Evans has joined the corporation as Director of Marketing.
In this role, Evans manages the marketing and sales operations of Legally Armed America and it's two divisions, Legally Armed Marketing+Media and Gun District.
"As Director of Marketing for our family of companies, Laura grows the bonds we have with consumers and the industry partners who rely on us for content, social media, news, events, information, entertainment, and more," commented Paul Glasco, President and Founder of Legally Armed America. "Her honest, fresh approach connects her closely with the shooting and outdoor industry and her expertise in developing a marketing innovation agenda will fully leverage Legally Armed America's extensive range of content, products and services," he added.

"The Legally Armed America family is unparalleled in terms of its scope," said Evans. "It encompasses an entertainment company, a content creator, a media company, and, with the introduction of Gun District, an exciting new social media community that supplies unlimited potential for communication, promotion, and free expression. By joining forces with this dynamic team, I'm eager to create entirely new experiences that engage, excite and motivate people to exercise their freedoms," she commented.

"Laura's stellar reputation and passion for nurturing relationships in the shooting industry allow us to take full advantage of this pivotal moment as the Gun District social media community takes off," says Glasco. "We view Laura's role on our team as a sign of commitment to our partners that we'll continue to strive for the highest quality in everything we offer."
Evans, a highly respected marketing veteran, joins Legally Armed America from LaserMax, Inc., where she expanded brand awareness through multi-media marketing communications. Prior to that, Evans spent 5 years at Crosman Corporation where she was responsible for managing public relations, media relations and advertising campaigns for the company's portfolio of brands. A Lifetime Member of the NRA, Evans is a staunch supporter of youth programs that encourage a lifetime of safe shooting.
For further information about Legally Armed America and its family of companies, please contact Laura Evans at [email protected]
About Legally Armed America Inc.
Legally Armed America is a heart-pounding cable and web television show created for gun-lovers by gun addicts and dedicated to people who want to stay informed about the latest firearm-related products, events, news and just about anything gun related. Legally Armed America covers everything from useful reviews on the most exciting products, to supplying the latest gunsmithing techniques and tips. Field reporting from shooting competitions and industry events, as well as the most up-to-date news on gun legislation and gun control round out the dynamic show. The show is hosted by "a bunch of guys who grew up around guns, love the fact that our Constitution affords us the God-given right to purchase and own them, and appreciate the loads of responsible range time we get to spend with them." Legally Armed America is an NRA News Official Partner.
For more information, please visit Legally Armed America, Facebook, and Twitter.
About Legally Armed Marketing+Media
Legally Armed Marketing+Media provides strategic marketing solutions for the shooting sports and outdoor industries. Delivering custom-defined services including web development, SEO, content marketing, conversion optimization, customer experience and conversion, and digital asset development, Legally Armed Marketing+Media maximizes promotional dollars. Contact Legally Armed Marketing+Media today for a quick consultation of how to best achieve market exposure for your product and company.
For more information, please visit www.LegallyArmed.guru.
About Gun District
Gun District is a social networking service catering to those who share a reverence for the Second Amendment, guns and the outdoor lifestyle. Created in the spirit of camaraderie amongst people, organizations and companies with common interests, Gun District embraces the belief that restrictions on learning, sharing or purchasing guns or gun-related products is not a true representation of freedom. Responsible gun enthusiasts visit Gun District free from discrimination. Join today at GunDistrict.com, membership is free. See YouTube for more details.
For more information, please visit www.GunDistrict.com.