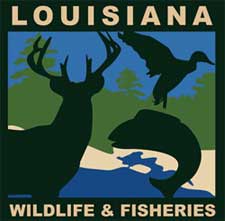 Louisiana -(Ammoland.com)- Louisiana Department of Wildlife and Fisheries Enforcement Division agents arrested a Hessmar man this morning, March 6, for his alleged involvement in the cutting down of trees on the Spring Bayou Wildlife Management Area (WMA) in Avoyelles Parish.
After conducting their investigation and receiving an anonymous tip, agents arrested Rick K. Savoy, 48, at his residence for criminal damage to state property.
He was also arrested for operating an All-Terrain Vehicle (ATV) off of a WMA ATV trail, not complying with WMA self-clearing permit regulations and interference with navigation.
LDWF found up to 100 trees cut down on the WMA since early December of 2014.  Agents believe the trees were cut down to block navigation to the northern part of the WMA in order to keep other hunters out of the area.  The trees blocked all three entrances to an area known as the "Bean Field" in the northwest corner of the WMA.
The trees ranged from 10 inches to 30 inches in diameter and up to 50 foot tall including cypress, oak and willow trees.
LDWF agents booked Savoy into the Avoyelles Parish Jail in Marksville.
The penalty for cutting down trees on a WMA is criminal damage of state property and brings up to a $10,000 fine and up to 10 years in jail.  There may also be a civil restitution charge for the replacement value of the trees and cleanup required.
Operating an ATV off of a WMA ATV trail and failing to comply with self-clearing permit WMA regulations each brings a $100 to $350 fine and up to 60 days in jail.  Interference with navigation carries a $50 fine and to 15 days in jail.
Agents involved in the case are Lt. John Volentine, Sgts. Gabe Guidry, Chad Watts and Bear Fletcher, and Senior Agents Doug Anderson Jr., Jay Callegari, Heath Wood, Kurt Hatten, Dale Wheat, Kenny Robertson and John Hattaway.  Avoyelles Parish Sheriff's Office Deputy Matthew Smith and Detective Jeremiah Honea also assisted in the case.