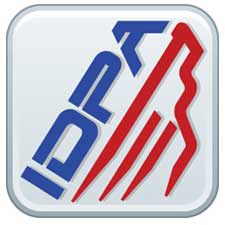 BERRYVILLE, Ark. –-(Ammoland.com)- Team Smith & Wesson shooters, and two of the top wheelgun shooters in the shooting sports, Jerry Miculek and Josh Lentz battled for the Enhanced Service Revolver division title at the Smith & Wesson IDPA Indoor Nationals with Miculek taking the championship by 13.69 seconds.
Miculek won 10 of the 13 stages on his way to posting a final time of 263.81 seconds with 80 down. Lentz, who won the other three stages, finished with 64 points down in a time of 277.50.
"Jerry Miculek continues to dominate the revolver shooting sports. His talent and skill with a wheelgun is unparalleled so it's no surprise that he's collected yet another IDPA national title," said Joyce Wilson, executive director of IDPA.
Rounding out the top five in the division were Bill Thorpe, an Expert class shooter, with 377.54 (121). Master shooter Ken Ortbach claimed fourth with 379.87 (129) while Roger Coutant, another Expert, took fifth with 444.99 (187).
Smith & Wesson has hosted the IDPA Indoor National Championship on the indoor ranges of their Shooting Sports Center for 18 years. One of the most popular matches on the IDPA competition calendar, the Indoor Nationals serves as the official start of the IDPA season.
For more information on IDPA, the Smith & Wesson IDPA Indoor Nationals or to join the more than 24,000 members competing each week, visit www.IDPA.com.
You can further connect with the IDPA community through IDPA's social media, such as @OfficialIDPA on Twitter and ShootIDPA on Facebook, Instagram, Pinterest and Tumblr, or check for regular news and updates on the organization's DOWN ZERO Blog.