Tikka®, an uncompromising Finnish gun maker, known for accuracy, reliability and performance is now available at MGW online.
Pevely, Mo. (Ammoland.com) – Midwest Gun Works Inc. (MGW), a one-stop shop for firearm parts, accessories and gunsmithing services, announces the Tikka® Pro Shop section at MidwestGunWorks.com. Tikka® is an uncompromising Finnish gun maker known for the reliability, accuracy and performance of its firearms. Midwest Gun Works is proud to carry Tikka® parts and accessories, including magazines, stocks, ammunition and scope mounts and rings.
Midwest Gun Works carries a variety of Tikka® magazines, including Tikka® Model 595 and 695 Extended Magazines. The magazine capacity ranges from 4-6 rounds depending on the rifle. The magazines are a great pickup for any Tikka® owner, as they extend the capacity of the rifle and allow for quick reloading. The Tikka® Model 595 and 695 Extended Magazines are available at MidwestGunWorks.com for $69.50.
Midwest Gun Works also carries an assortment of Tikka® scope mounts and rings, including the Tikka® Universal Optilock Scope Mount Bases. The bases are precisely machined out of solid steel and ensure a perfect fit with the mount rails allowing for precision scope alignment. The bases come with a blued finish and can be found at MidwestGunWorks.com for $61.50.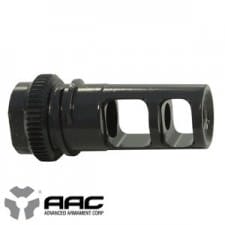 Another popular product carried by Midwest Gun Works is the AAC Muzzle Brake, 7.62mm, 51T for Tikka® rifles with M18x1 threads. Nitride-coated and constructed with aerospace-grade stainless steel, this durable muzzle brake reduces recoil and helps keep Tikka® rifles on target. The Advanced Armament muzzle brake for Tikka® rifles can be found for $144.50 on MidwestGunWorks.com.
To find out more about Tikka® at Midwest Gun Works, visit www.midwestgunworks.com or become part of the conversation on Facebook.
About Midwest Gun Works, Inc.:
Midwest Gun Works was founded in Pevely, Missouri in 1997 by Rich Mcgehee and Jon Warden. Passionate about providing customers with the finest in gunsmithing craftsmanship, shooting accessories and both current and obsolete gun parts, MGW became the go-to provider of gunsmithing services for the likes of Cabela's, Gander Mountain, Bass Pro, Scheels, Beretta, Browning, Winchester and many more companies. www.midwestgunworks.com.