State's Chapters and Volunteer Engagement Growing Rapidly
New Mexico Department of Game & Fish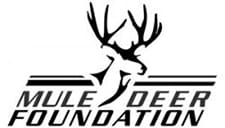 Salt Lake City, UT -(Ammoland.com)- The New Mexico Department of Game and Fish (NMDGF) recently received a President's Award from the Mule Deer Foundation for their efforts to reverse mule deer declines through translocation and habitat management.
The agency was one of two state fish and wildlife agencies that were honored during the Western Hunting and Conservation Expo in February. The state has also seen an increase in chapters and volunteer enthusiasm to support the agency's work on mule deer.
"New Mexico's Department of Game and Fish is making great strides in their mule deer conservation efforts and it's great to see the growth in Mule Deer Foundation chapter engagement in the state to support their efforts," said Miles Moretti, MDF President/CEO. "NMDGF's translocation program has been an effective way to address human-wildlife conflicts and improve mule deer populations in areas where they have been low. It is because of these proactive efforts that I am honored to present them with one of this year's President's Awards."
NMDGF has taken an active approach to reversing mule deer declines within the state through the use of translocation. As mule deer numbers fell over the past decades, mule deer habitats in select portions of the state actually improved thanks to wildfires, habitat management, and predator management. However, mule deer numbers remained low in these areas despite the improvement of habitat. NMDGF biologists noticed the connection between suitable habitat and low deer numbers and implemented the mule deer translocation program beginning in January 2013. Deer were removed from areas of high concentration, including urban areas and locations where deer were negatively impacting agriculture, in a dual effort to also prevent human-wildlife conflicts.
These deer were translocated to suitable habitats evaluated by biologists throughout the state. Over the past three years, 390 deer were captured and translocated as part of this effort.
"Excluding human harvest and capture-related losses, survival across all years averaged approximately 60 percent. After we adapted capture, translocation, and release techniques during the second year, survival jumped as high as 80 percent rivaling survival of native deer in New Mexico," commented Stewart Liley, big game program manager with NMDGF. "Given the results, our Department is optimistic that translocation efforts will help repopulate suitable habitats where there are low deer numbers."
New Mexico is currently home to six MDF chapters: the Duke City chapter in Albuquerque; the Silver City chapter; the Tri-County chapter, encompassing Otero and Dona Ana Counties as well as El Paso County in Texas; the new Lincoln County chapter; and the Farmington and Roswell chapters are in the process of being revitalized. The Tri-County chapter held their 3rd annual banquet on February 28th in Sunland Park, NM, which was a great success. In addition, the Duke City Chapter's inaugural banquet is scheduled for August 8th. The chapters have been very active in their volunteer efforts. The Roswell chapter provided over $12,000 to help the Bureau of Land Management (BLM) and NMDGF construct two wildlife water guzzlers.
In addition, the Tri-County chapter has used more than $3,200 in chapter resources to support a water guzzler project with BLM and recently helped fund mule deer habitat and mountain lion predation research at New Mexico State University.
"Thanks to dedicated volunteers as well as state and federal wildlife programs, New Mexico wildlife and habitat has benefited from water tank installments, forest road repair, replanting of seedlings in burn areas, and trash and debris pickup," said state chair Colleen Richardson. "It is the responsibility of all sportsmen and women to contribute to the success of New Mexico's wildlife, their habitats and its use for future generations, and the Mule Deer Foundation is really making a difference in our state!"
About MDF
The Mule Deer Foundation is the only conservation group in North America dedicated to restoring, improving and protecting mule deer and black-tailed deer and their habitat, with a focus on science and program efficiency. MDF is a strong voice for hunters in access, wildlife management and conservation policy issues. MDF acknowledges regulated hunting as a viable management component and is committed to recruitment and retention of youth into the shooting sports and conservation.
Get involved at www.muledeer.org or call 1-888-375-3337.