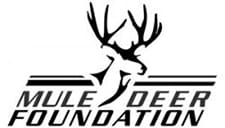 Salt Lake City, UT -(Ammoland.com)- At their February board meeting, the Mule Deer Foundation board of directors added three new members and elected Brian Fienhold as the new board chair and Bethany Erb as the new vice-chair.
The new members include Aaron Oelger, Dan Harrison and Todd Longgood who bring their strengths in marketing, land management and mule deer conservation to the already strong board.
"In recent years, our board has played a key role in helping us expand and increase our impact on behalf of mule deer and black-tailed deer. Our new board members bring a tremendous skill-set to the table for us and can only help as we continue to build the organization," said MDF President/CEO Miles Moretti. "We thank outgoing board member Kenn Loch and appreciate the hard work of past board chair Jim Steadman and know that our new board leadership and members will continue to move forward on the path those leaders built."
Incoming Chairman of the board, Brian Fienhold, lives in Houston, Texas, and built his career in the trading, marketing and consulting arena within the energy industry. Fienhold grew up hunting with his dad in Illinois, primarily white-tailed deer and pheasant. Later he began venturing farther west and fell in love with spot and stalk mule deer hunting in the great western landscapes. He has always been very active with various wildlife conservation groups and helped establish MDF's Houston Chapter and grow MDF's presence in the Texas region. The state now has some of the highest performing chapters within the organization.
"Over our more than 25-year history, MDF has established ourselves as the leader on issues facing mule deer and black-tailed deer through the hard work of our volunteers, staff and board of directors," said Fienhold. "With this foundation in place, we have never been in a better position to communicate our mission, reach new audiences, establish new relationships and ultimately expand our impact in the wildlife conservation space."
Bethany Erb, Western Advocacy and Outreach Manager at the Land Trust Alliance will take on the role of vice-chair of the board. Erb grew up on a ranch in Montana and has worked on hunting and conservation issues throughout her career. Previously Erb worked as the State Program Director at the Congressional Sportsmen's Foundation. Erb works in the Washington, DC area and has a solid background on legislation and sportsmen's policy issues.
"I'm excited to take on a leadership position on the MDF board. Mule deer and mule deer hunting have been a passion of mine and I appreciate the opportunity to give back to such a great organization," said Erb. "I'm hopeful that my expertise in sportsmen's policy issues and my interest in bringing more women into our outdoor pursuits will be valuable to achieving our overall goals as MDF grows."
New board member Aaron Oelger is the Director of Marketing with Vista Outdoor. Oelger oversees the Bushnell product line and has more than a decade working with outdoor industry professionals and media organizations. Dan Harrison is the owner of Colorado Mountain Adventures and has been a successful guide and outfitter for many years. Harrison has been active with a number of conservation organizations and has co-hosted Remington Country TV and the Best and Worst of Tred Barta. Todd Longgood owns Whitney Land Company based in Northeast, Oregon, and has been rancher in the region for many years.
On his properties, Longgood has actively implemented numerous ranch management plans to improve overall land conditions and supported sagebrush conservation initiatives.
About MDF
The Mule Deer Foundation is the only conservation group in North America dedicated to restoring, improving and protecting mule deer and black-tailed deer and their habitat, with a focus on science and program efficiency. MDF is a strong voice for hunters in access, wildlife management and conservation policy issues. MDF acknowledges regulated hunting as a viable management component and is committed to recruitment and retention of youth into the shooting sports and conservation.
Get involved at www.MuleDeer.org or call 1-888-375-3337.