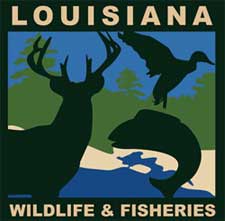 Louisiana-(Ammoland.com)-Louisiana Department of Wildlife and Fisheries Enforcement Division agents cited a New Iberia man for allegedly killing a Louisiana black bear on Feb. 28 in St. Mary Parish.
Agents received a call from a hunting group that Richard A. Picard Jr., 52, illegally shot and killed a Louisiana black bear while he was hog hunting.
Picard Jr. was hog hunting with a group of hunters near Cypremort Point when he shot a 350 pound Louisiana Black Bear.  Picard Jr. claims to have mistakenly identified the black bear as a wild hog.
He shot the five year old male bear with buckshot from his 12 gauge shotgun.  Agents seized Picard Jr.'s shotgun and issued him a citation for killing the bear.
Killing a Louisiana Black Bear brings a $900 to $950 fine and up to 120 days in jail.  Picard Jr. also faces up to $10,000 civil restitution for the replacement value of the black bear.
Hunters are advised to always identify their targets before pulling the trigger for any wildlife they may be hunting.
Agents involved in the care are Senior Agent Joey Thompson, Senior Agent Jake Darden, Senior Agent Jason Marks and Senior Agent Cullom Schexnyder.
For more information, contact Adam Einck at 225-765-2465 or[email protected].