Video produced for gun control group appears to show multiple felony violations of city and state law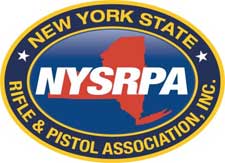 Albany, NY -(Ammoland.com)- The New York State Rifle & Pistol Association would like to comment on a "Public Service Announcement" produced by the group States United to Prevent Gun Violence.
In the video, a realistic looking gun store was set up on the Lower East Side of Manhattan and potential first time gun buyers were invited in.
"First off, the firearms and accessories hanging in the background do not appear to comply with either New York City law or the so-called SAFE Act," said NYSRPA President Thomas King.

"Second, it is a felony violation of the Sullivan Act for a person to possess a handgun anywhere in New York without a license. The video clearly shows individual "customers" handling various handguns and doing so in an unsafe manner."
NYSRPA calls upon Attorney General Eric Schneiderman to investigate the advertising agency which produced the video, Grey New York, for possible violations of city and state law.
About The NYSRPA
The New York State Rifle & Pistol Association is the state's largest and oldest firearms advocacy organization. Since 1871, our organization has been dedicated to the preservation of Second Amendment rights, firearm safety, education and training, and the shooting sports. Our membership consists of individuals and clubs throughout the state. We are a not-for-profit 501(c)4 organization and the official NRA-affiliated State Association in New York.
For more information, please visit www.NYSRPA.org.