Jason Reid field tests and reviews the P3 Ultimate Gun Rest & Vise by CTK Precision in this shooting rest product review.
Manasquan, NJ –-(Ammoland.com)- Ever have the feeling you might be a better archery shot than a rifle marksman?
Seems strange to think about really.
Guns seem so reliable, however, unless one approaches the brute force of a weapon with the same finesse mechanics of shooting the stick and string, the results can be far more disastrous than an errant arrow.
For many years I have taken for granted the reliability of my rifle, "Grace," a Remington 700 in .270. She often cleans up for my haphazard archery season. It wasn't until I once had a "swing and a miss" and "sinned" with "Grace" in my hands, that I realized taking for granted the few holes punched on paper off of an old picnic table before rifle season was not going to fly any longer.
I did not blindly lunge for the answers, but first asked questions. Why did I miss the mark? What did I need to change about my routine?
I arrived at the same answer to becoming a better archer – "quality gear, mechanics and practice".
But we need to face the reality of the situation, rifle, and gun ammo, in general, is becoming far more expensive. It is a bit gut wrenching to burn an entire case of precious rifle ammo trying to sight-in. We need to be able to conserve ammo by achieving our target goals quickly while still practicing the proper shooting mechanics, and a quality gun rest finds itself close to invaluable to the dedicated sportsman.
Enter the P3 Ultimate Gun Rest from CTK Precision
Within each sportsman, we have an innate ability to judge a piece of equipment by simply touching it quickly. Regardless of your pay grade, as sportsmen and women, we demand quality and longevity from equipment. By initially touching the P3 Ultimate Gun Rest from CTK Precision , I could feel the quality radiating through my synapses due to the durable E-coat finish.
CTK Precision ( www.ctkprecision.com ) is run by avid shooter, Curt Knitt who designed the P3 Ultimate Gun Rest in his garage, It was only when his buddies started fighting over the rest, that he knew he had new business, now called CTK Precision.
To Sin No More
Assembly on the P3 Ultimate Gun Rest took no more than five minutes, but I will give you a warning, you will need a socket wrench set to tighten a few bolts. The P3 is a relatively simple piece of equipment. The T shaped design gives shooters three solid points of rest. However, these points are all adjustable with the turn of a knob.
Leveling off on your down range paper target for consistency isn't easy while laying your gun on a few sandbags and backpacks. And Y holder on gun rests are not the newest revolution in this field of technology, but I did appreciate the ease of adjusting the P3 Y Rest. The Y-rest, covered with Marine carpet to protect your firearm, is adjusted smoothly and was held in place with the firm adjustment knob. I quickly leveled off on the front end, the unique rear shooting pad and leveling leg. The shooting pad held the butt stock of the gun in place while the leveling leg allows for fine tuning adjustments.
While playing with the leveling leg, I must have not moved for several minutes since my father had to ask if I was doing alright. Truth was, I was actually enjoying sighting in a rifle for once.
The rear shooting pad adjusts vertically from the use of the leg which saved a significant amount of time instead of trying to find the right level height trying to stack enough bags or seat pads on a table. I'd also like to point out, the rear shooting pad telescopes horizontally to compensate for all lengths of guns, rifles to pistols.
For the long range western hunter, steadiness on the range to dial in your gun means the difference between a hit and a miss in the field, no big secret there. The P3 Ultimate Gun Rest is also customizable with the easy addition of the CTK Gun Vise Attachment. Mostly, this is a lock-tight clamp with PVC padding. The vise slipped onto the 25-inch rail and held my gun with security through the entire shooting process and is indeed worth a few extra pennies to add to your new downrange adjustment ally.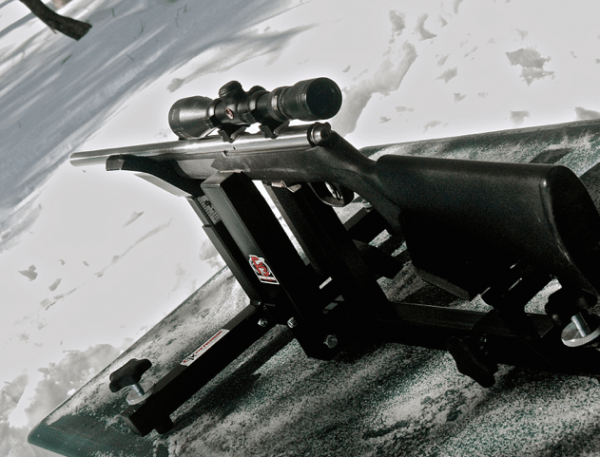 At the end of the day, I felt the steel construction of the rest is high quality, and the E-Coat finish is durable but smooth to allow for easy adjustment. The Rear Leveling Pad and Leg is one of my favorite aspects since it saves me time in making minor vertical adjustments. And the vise, this rest is not complete without it. I look forward to sighting in the rest of my deer rifles come warmer weather.
Order the P3 Ultimate Gun Rest from CTK Precision online at Amazon
Order the CTK Gun Vise Attachment Online at Amazon
Contact CTK Precision at www.ctkprecision.com
About Jason Reid:
Jason Reid is a writer and business professional from upstate New York. After deciding to pursue his dream of becoming an outdoor writer, Jason started a blog from his dorm room at Houghton College, growing it and working hard to earn opportunities. While bowhunting big game is his ultimate passion, Jason welcomes all outdoor challenges which force him to push his limits. Jason's work can be viewed on his website Pushingthewildlimits.com.
---
AmmoLand Editor Comments:  This article was updated to reflect changes in product improvements / availability on 11/15/2017.