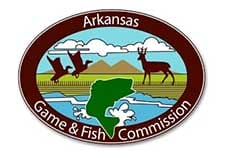 Mayflower, Ark. -(Ammoland.com)-  Conway teacher Jim Belote realized something was different about the lone duck he spotted on the lower end of Craig D. Campbell Lake Conway Reservoir.
He put his Nikon camera with a telephoto lens into action. The duck was close to a group of coots feeding not far from Arkansas Highway 89's bridge over the lake. Then the bird spread its wings and raised its tail, its long, long tail.
Belote, a science teacher at St. Joseph High School, fired off about a hundred camera shots then went home and posted one of them on the Internet with a "what is this" caption. Within just a few minutes, he had a plethora of answers.
The bird was a long-tailed duck, a species formerly called oldsquaw. It is an Arctic resident and a rare visitor to Arkansas and other southern or Midwestern inland states.
Belote's sighting was on a
Friday
afternoon.
Saturday
, vehicles were crowded at the scene. Birders from all over the state had followed the Internet posting for looks for themselves. Belote said, "One fellow came from Fort Smith
on Saturday
just to see this duck."
A fisherman took note of the many visitors with cameras and binoculars and asked, "What are y'all looking at?" Someone pointed to the long-tailed duck. The angler said, "Why, that bird's been hanging around here for a couple of weeks."
Belote has returned several times to see the duck and said the bird has a pattern. It hunts for fish close to the highway then slowly drifts and swims in a circle away from the road and toward the lake's dam. Then it returns, he said.
According to the Audubon Society, the long-tailed duck is "a duck of cold northern waters. Often, it is the most abundant bird in the high Arctic. Large flocks are often far out at sea; many spend the winter on such northern waters as Bering Sea and Hudson Bay. Flocks fly low over sea, with stiff shallow wing beats, often tilting from side to side. Far more vocal than most ducks, loud melodious calls of flocks can be heard from some distance. It was formerly called oldsquaw, not politically correct by any measure, a reference to this talkative behavior — although it is the male of this species that makes most of the noise."
In 2014 there were 11 reports of long-tailed ducks submitted to the Arkansas Audubon Society, including sightings on Lake Dardanelle, Beaver Lake, Lake Maumelle and in Chicot County. In 2013 there were three sightings of this species on Beaverfork Lake north of Conway.