Photography by LA Digital Photo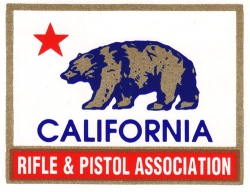 Fullerton, CA -(Ammoland.com)- Steven Seagal stopped in at the California Rifle and Pistol Association's (CRPA) 140th Anniversary Gala at the Hilton Irvine Saturday to congratulate the nonprofit association on the milestone birthday and congratulate new CRPA President, well known California gun rights attorney C.D. "Chuck" Michel, on his appointment.
Attendees enjoyed dinner, a raffle and silent auction items such as hunting trips, jewelry, even a civil war rifle. The highlight of the evening however was the many active and retired military guests in attendance for CRPA's Year of the Veteran (2015). Getting to take photos with Steven Seagal who was more than happy to oblige for the servicemen and women, made the evening even more special.
Steven Seagal Conversing with Military Woman

"Shooting and hunting is important, it's part of our heritage," said Seagal who himself is a reserve Deputy Sheriff.

Guest speaker Kyle Weaver, NRA General Operations Executive Director, made the night exciting with his passionate speech about working in California to preserve constitutional rights. "Our Activists don't start out as activists, they come from the ranks of recreational shooters, hunters, and people who own guns for self-defense or any other lawful purpose… The more someone is invested in the Second Amendment the more someone is exercising their freedom."
The Gala also presented honorees with annual awards as follows:
CRPA Legislator of the Year, Assemblyman Adam Gray.
CRPA Peace Officer of the Year, Tom Bosenko, Shasta County Sheriff
CRPA Wildlife Officer of the Year, Captain Roy Griffith, Calif. Dept. of Fish & Wildlife
Defender of Freedom, Sheila Link
Defender of Freedom Youth, Clayton Holmes (Calif. 4-H Ambassador for shooting sports)
Recruiter of the Year, Ken Zachary, CRPA member and firearms trainer
Lifetime Achievement Award, Bob Templeton and Crossroads of the West Gun Show
About California Rifle & Pistol Association (CRPA)
The California Rifle & Pistol Association (CRPA), founded in 1875, is a non-profit membership and donor supported organization with tens of thousands of members throughout California and the nation. CRPA's members include police, professionals, firearm experts, the general public, and loving parents. CRPA is dedicated to promoting and defending the shooting sports, and to providing safety information, education, and skills training. CRPA also organizes and sanctions competitive shooting activities for both adult and junior shooters.
For more information, please visit www.CRPA.org.