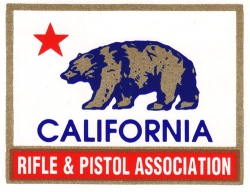 Fullerton, Calif. –-(Ammoland.com)- Industry celebrities think #huntingtastesgood; using a fun t-shirt design and social media, the California Rifle & Pistol Association hopes to educate the next generation of gun owners and hunters by sending them to shooting sports and hunter education camps with the money raised from online shirt sales.
NRA General Operations executive director Kyle Weaver has been seen with the shirt, California Department of Fish & Wildlife Hunter Education Program Coordinator, Captain Roy Griffith has been seen wearing it too!
Other celebrity selfies coming soon include Steven Rinella, of MeatEater fame, Top Shot Chris Cheng, and the Outdoor Channel's and past Miss Kansas beauty queen, Theresa Vail. Follow @CRPAnews on twitter to see the latest celebrities who think #huntingtastesgood.
The shirt is only available for a limited time though, the Teespring campaign ends April 1, 2015.
See the shirt and celebrities online by visiting www.crpa.org/huntingtastesgood
About:
The California Rifle and Pistol Association "CRPA," founded in 1875, is dedicated to defending the rights of law-abiding citizens to responsibly use firearms for self-defense and the defense of their loved ones, for sport, and for all other legal activities. CRPA is the official state association of the National Rifle Association. A California non-profit association, CRPA is independently directed by its own Board of Directors. CRPA's members include law enforcement officers, prosecutors, professionals, firearm experts, the general public, and loving parents. CRPA has always worked to reduce the criminal misuse of firearms and firearms accidents, while actively promoting and organizing the competitive shooting sports and Olympic training programs in California. We are proud to say that many CRPA competitors are among the best in the world. Visit: www.crpa.org