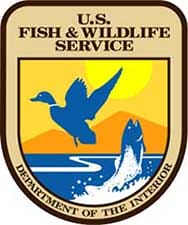 Washington, DC -(Ammoland.com)- Nothing against birding or nature touring, but sometimes even die-hard nature enthusiasts want to break out of the mold.
Try something a bit more offbeat. We know the feeling. Consider these wild and wooly events some national wildlife refuges have planned this spring.
Dig for Selenite Crystals at Salt Plains National Wildlife Refuge – Jet, OK
April 1 through October 15
Unearth a distinctive souvenir of Northwestern Oklahoma. Nowhere else in the world can you find selenite crystals with unique hourglass patterns just below the salt-encrusted surface. Digging for selenite — a form of the mineral gypsum — predates the refuge's establishment in 1930. The refuge allows the practice to continue. Last year, the refuge saw some 40,000 diggers.
Digging is allowed on about 200 of the 13,000 acres of salt flats. Sites are subject to change. Wear a hat and sunblock and bring plenty of bottled water. And bring a change of clothes — crystal hunting can be messy. Diggers can bring home up to 10 pounds of crystals a day or one large cluster. Selling the crystals is prohibited. More information here or call 580-626-4794.
Get goosebumps on a "Wolf Howl" Alligator River Refuge – Manteo, NC
April 4, 7 to 8:30 p.m.
May 23, 7:30 to 9 p.m.
Head into the woods after dark with refuge staff and hear the chilling howl of an endangered red wolf in one of its last natural habitats. Only an estimated 100 red wolves remain in the wild.
Wolf howls cost $10; free for children under 12. No reservations are needed. More information here, including additional event dates (monthly, through December) or call 252-216-9464.
Chicken National Wildlife Refuge
April 11 and 12, 7 a.m. to 1 p.m.
Valentine's Day may have passed, but prairie-chickens are still in the mood for romance. See males of the species perform their flamboyant courtship dance — complete with foot stomps, fanned tail feathers, inflated yellow throat sacs and strange booming sounds. Bring your binoculars for a morning trip through the stunning coastal prairies of southeastern Texas. Save time for refuge wildflower tours and walks to explore the diversity of the habitat. More information here or call 979-234-3021.
Earn bragging rights on a Scorpion Hunt
Search for scorpions at night, with the aid of only an ultraviolet flashlight, your wildlife detective skills and an expert guide. Look out: Night may impair your vision; not so for the nocturnal scorpion. But you have an advantage, too: Under UV light, scorpions glow a fluorescent blue.
The hunt is free of charge, but groups tend to fill quickly. To reserve a space, email [email protected] More information here.
May 16, 10 a.m. to 1 p.m.
Each spring, thousands of elk at Wyoming's National Elk Refuge shed their winter antlers and begin their summer migration. Boy Scouts help refuge staff gather the antlers. Then, they auction off their bounty in Jackson town square in May. Place a bid; a portion of Elk Fest proceeds benefits National Elk Refuge conservation efforts.
Fun continues through the week. Explore the refuge for a chance to see wild elk that haven't left yet. Stay to compete in the Mountain Man Rendezvous, a weeklong competition in archery and knife throwing, or sample the High Noon Chili Cook-Off.
Register for the antler auction at 307-733-5935 or [email protected] More information here.
About National Wildlife Refuge System
The National Wildlife Refuge System protects wildlife and wildlife habitat on more than 150 million acres of land and water from the Caribbean to Alaska plus more than 418 million acres of marine national monuments in the Pacific. Refuges also improve human health, provide outdoor recreation and support local economies.
Visit our home page at www.fws.gov/refuges. Follow us on Facebook and Twitter.
About U.S. Fish and Wildlife Service
The mission of the U.S. Fish and Wildlife Service is working with others to conserve, protect, and enhance fish, wildlife, plants, and their habitats for the continuing benefit of the American people. We are both a leader and trusted partner in fish and wildlife conservation, known for our scientific excellence, stewardship of lands and natural resources, dedicated professionals, and commitment to public service.
For more information on our work and the people who make it happen, visit www.FWS.gov.