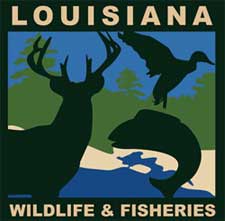 Louisiana -(Ammoland.com)-  Two Louisiana Men pleaded guilty in Federal Court on March 10 in Orleans Parish for duck hunting violations that occurred in 2014.
Judge Joseph Wilkinson Jr. sentenced Lloyd Badeaux, 67, of Thibodaux, and Bobby Chauvin, 76, of Theriot, to each pay a $560 fine for violating non-toxic shot requirements while duck hunting.  Badeaux was also sentenced to serve 30 days in jail for violating his hunting ban from a previous hunting conviction.
Louisiana Wildlife and Fisheries Enforcement Division agents first cited Badeaux for taking over the limit of ducks in January of 2012 in Terrebonne Parish.  Agents found Badeaux 48 black bellied whistling ducks over his daily limit.  Badeaux pleaded guilty to the charge in April of 2013 and was fined $5,010 and placed on three years of probation with no hunting.
Prior to the opening of the 2014/15 migratory game bird season, LDWF agents with U.S. Fish and Wildlife Service (USFWS) agents received information that Badeaux would be duck hunting on opening weekend.  On Nov. 15, 2014, LDWF and USFWS agents set up surveillance where Badeaux was thought to be hunting in Terrebonne Parish near Dularge.
The agents found Badeaux actively hunting ducks in a duck blind and made contact with him and Chauvin.  Agents found that both subjects were in possession of lead shot shotgun shells while hunting migratory game birds.
Agents cited both men for violating non-toxic shot requirements.  Badeaux was also cited for violations of his federal probation.
Agents involved in the case were LDWF Sgt. Thomas Dewitt, and Senior Agents Dean Aucoin, Stephen Rhodes and Thomas Wolf.
For more information, contact Adam Einck at 225-765-2465 or [email protected]