By Norman Gray
Gun gear writer Norman Gray takes us through his Top Five list of the best ar-15 Rifle Magazine Accessories.
Arizona –-(Ammoland.com)-  Americans love their AR-15's, so much that there is believed to be an estimated 3,750,000 plus rifles, give or take a few thousand, privately owned in the United States.
And if you're one of these owners you know the heart and soul of your rifle is the magazine, without it you are reduced to having a pricey, single shot, wall hanger.
Of course, there is no shortage (at the current moment) of magazines from a multitude of manufacturers. So, if we all can agree on this fact, let me go out on a limb and say you already have a favorite brand of magazine that has proven itself reliable and you own six or more as I do.
Let's take the next logical step and ask the nagging question: "What's the best AR-15 Rifle Magazine Accessories for the humble AR15 mag?"
You begin accessorizing with performance boosting upgrades of course. I'm going to focus on magazine enhancements and give you my top five picks. So let's say for sake of argument you like MagPul and you want to improve on them. Like magazines, the market is full of useful gadgets that will not only make your mags more reliable, but easier to use. Most of these items are easy to acquire and are relatively inexpensive, the only catch you must buy as many of those as you have magazines. The end result is a better magazine to fuel your pet AR, and if your military or police you want 100% reliability at any cost.
These are not in any order of importance, they are simply my five picks of enhancements I would use myself or currently own, so let's begin.
(5) Butler Creek Stripper Clip Speed Loader
If you're going to load multiple magazines, doing it by hand is impractical. A magazine loading tool will make this operation smooth and seamless and save wear and tear on your fingers and table.
I prefer the Butler Creek M16/AR15 Strip LULA Black Stripper Clip Speed Loader to load magazines. It is small and light weight and fits almost anywhere and works with many different brands of magazines. You can either load 10 loose rounds or use a 10 round stripper clip.  Simply place on the rear of the magazine, load the speed loader or loose rounds and press down on the T-handle and they're in, just repeat two more times for a 30 round magazine, a great thing to do while watching TV.
The original loaders design was by Ran and Guy Tal who both reside in Israel, they saw the need for these after watching soldiers struggle with outdated loaders and the rest is history.
If they only had these when I was in the Infantry there would be a lot less damaged range tables.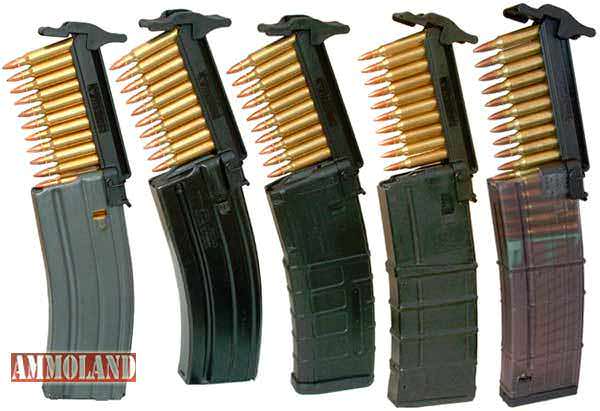 (4) Magpul Self Leveling Follower
If you're still using those old aluminum G.I. magazines made by the lowest bidder, there is a light on the horizon. More times than not, the followers in these magazines jam from foreign materials and/or just from being bent or wear.
Once this happens you have an aluminum door stop with zero usability, but Magpul has a simple cure for these relics that will put them back in operation. The Magpul Self LEV Lower followers will replace the metal ones and make them perform like new, provided they're not too dented to allow movement.
They have an anti-tilt design so they stay level when loaded or un-loaded and are made from a self-lubricating polymer. Best of all they are a drop in design, just put these in place of the existing follower and you're ready to dump some rounds. And, as with all Magpul products, they're made right here in the USA.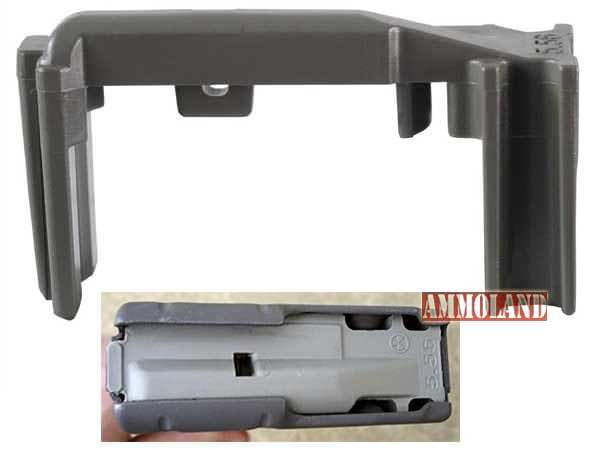 (3) MAGPUL – AR-15/16 PMAG Ranger Magazine Floorplate
Magazine carriers by their design will secure the magazines tightly and may have a retaining device to secure magazines inside the carrier.  In the heat of battle, fine motor skills deteriorate and pulling these magazines out of the carrier becomes harder.
To aid with this soldiers often installed 550 cord loops under the floor plates to grab onto, this is now a thing of the past. Magpul offers an accessory called MAGPUL – AR-15/16 PMAG RANGER FLOORPLATE 3 PACK, these floor plates replace the existing one and give you a positive grip on the magazine via a finger loop. They are also over molded with rubber to improve grip and cushion the magazine if it should drop to the ground when changed.
Replacement is simple, remove the old floor plate as you would for cleaning and then replace with the ranger floor plate, simple enough don't you think?
(2) Nordic Components – AR-15/M16 PMAG MOE M2 18rd Magazine Extension
There is a saying that's used in relation to changing out an empty magazine in combat, "The only good magazine change is the one that never happens."
I would agree wholly with this statement, the very act means you are not putting rounds down range. To counter this problem I give you the Nordic Components – AR-15/M16 PMAG MOE M2 18rd Magazine Extension which converts your standard 30 round magazine to a 48 round magazine.
The kit comes in black and clear and only works on Magpul PMAG's, but I have found a great many shooters including the military use them. The kit is simple to install, just remove the PMAG's floor plate, install the extension and new spring and put the magazine floor plate back on. You may encounter the fact that your new extended magazines will stick out farther from your preferred magazine carrier, but a small price to pay for more ammo and weight right?
(1) Boonie Packer Products – Ar-15/M16 Improved Aluminum Redi-Mag
Magazine changes are inevitable and lifesaving, second place recipients usual get a zip lock looking bodybag as a consolation prize. The BOONIE PACKER PRODUCTS – AR-15/M16 IMPROVED ALUMINUM REDI-MAG puts another 30 rounds at your fingertips and is worth every coin you paid for it. It allows you to carry an extra magazine on your rifle and it sits next to the magazine already in your mag well.
Magazine changes are fast and with practice you never have to take your eyes of the target. It attaches to your lower receiver and allows you to drop your magazine independently, good for clearing jams. It also features a closed top to keep out foreign matter and keep the round from walking forward under recoil.
This model also features a BCE (Bolt Catch Extension) to release the bolt, please note there are three models and each has a different price and features. Mine is the original steel model and I used it with aluminum magazines and they were drop free, it does work with Magpul, the fit is snug so you just have to pull slightly to get it out, but you will have hands on anyway.
Some of these accessories are unique to certain types and or manufacturer's magazines, while others are universal, make sure you read the description or call the manufacturer. Either way, the days of having to put up with bad, faulty or inadequate magazines are over and you will find someone will have the fix you're looking for to make your magazines 100% reliable.
About Norman Gray:
Norman Gray has been involved in the shooting sports for well over 30 years. He has served in both active duty and reserve component of the United States Army as an Infantryman and was honorably discharged at the end of his service. Moving to Arizona, he began assisting his long time friend and mentor Bob Shell, an accomplished writer and author in his own right. Norman is freelance contributor with Handguns Magazine, Canadian Firearms Journal and Manzano Valley Outdoors. He is also a member of (POMA) The Professional Outdoor Media Association, the (NSSF) National Shooting Sports Foundation and a Life Member of the (NRA) National Rifle Association. Visit: https://www.unleaded-ink.blogspot.com/