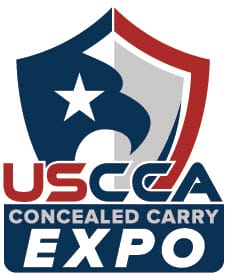 (AmmoLand.com) When the United States Concealed Carry Association (USCCA) hosts it's first-ever Concealed Carry Expo in West Bend, Wisconsin, the emphasis will be on training and information. World-class trainers and nationally known firearms experts will create a living classroom focused on self-defense and firearms safety.
Guests speakers already confirmed for the event include Dave Young, Founder and Director of Arma Training, who will conduct training on weapon retention, firearms survival tactics and preparing for a gunfight. USCCA contributing writer Beth Alcazar will lead a presentation titled "Concealed Carry for Moms: Breaking the Mold." George Harris, co-founder of the SIG Academy will address "Foundations of Shooting for Personal Defense."
Show attendees may also attend the Concealed Carry Fashion show, which will include presentations by USCCA President and CEO, Tim Schmidt, Mark Walters of Armed American Radio, and Milwaukee County Sheriff, David A. Clarke Jr.
"The goal of the Concealed Carry Expo is to provide anyone interested in self-defense and personal protection the best possible information and training. Keeping responsibly armed Americans well informed is the basis of firearms safety and personal freedom. We intend to do this in a fun, family-friendly environment," said Executive Editor of Concealed Carry Magazine, Kevin Michalowski 
The 2015 USCCA Concealed Carry Expo is the first expo of its kind dedicated to the concealed carry lifestyle. The event is completely supported by the USCCA and contributing sponsors. With more than 125,000 member/subscribers, the USCCA is the fastest-growing advocate for concealed carry and the industry leader in self-defense insurance.
General Show Info: 
Dates: Friday, May 8, 2015: 3PM – 7PM
Saturday, May 9, 2015: 9AM – 6PM
Sunday, May 10, 2015: 10AM – 4PM
Location: Washington County Fair Park – West Bend, Wisconsin
Entry is free for USCCA members
For more information visit the Show Website – http://www.concealedcarryexpo.com/
About the USCCA:
The U.S. Concealed Carry Association (USCCA) is the first and largest, member-owned association designed to educate, train, and insure responsibly armed Americans. USCCA members receive criminal and civil defense insurance protection through the Self-Defense SHIELD and have access to a wealth of industry information including expert advice, product information, and the latest news centered on the concealed carry lifestyle. The USCCA also publishes Concealed Carry Magazine, hosts the nationally syndicated radio program, Armed American Radio, and offers resources for firearms training through the USCCA Education and Training program.